South Aussie locals join 21-strong grid for The Bend
Posted on 21 April 2022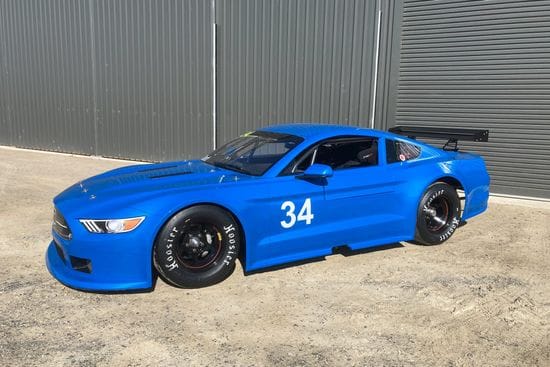 For the first time since 2019, South Australia will hear the thundering sound of TA2 as The Bend Motorsport Park plays host to Round 2 of the 2022 PROMAXX Performance Exhausts TA2 Muscle Car Series framed by Hytek at the SA Motorsport Series event this weekend, April 22-24.
21 cars make up the grid for TA2's return to The Bend which will include Round 2 of the 2022 TA2 Southern Series, including two South Australian debutants in the form of Dean Lindstrom and Stephen Short in a pair of Ford Mustangs.
Lindstrom is an experienced racer with national titles in Go Karts before stepping up to Group C Touring Cars and Sports Sedans. Lindstrom won state titles in HQ Holdens and Formula Ford and competed in the national Driver to Europe Series with a podium at the Formula 1 supports at Albert Park. Lindstrom also had two starts at the Bathurst 1000 in V8 Supercars in the early 2000s and most recently campaigned a Mazda RX-3 in Improved Production competition.
Short comes from a history in dirt karts, super karts and motorcycle racing including a couple of appearances in the Finke Desert Race, and recently competed in state-based Improved Production racing in a Mazda RX-7.
Queensland HQ Holden stalwart Brad Schomberg will also make his TA2 debut this weekend, substituting for Warren Wadley in his Ford Mustang, while Queensland Sprintcar racer Michael Rowell will make his first TA2 Muscle Car Series start. Inaugural series champion Russell Wright will hop out of his regular Ford Mustang and steer the #10 Dodge Challenge owned by Peter Robinson.
After clean sweeping the season opener under lights in Sydney, Nash Morris will not make the trip to The Bend, electing to focus on his upcoming Super2 event in Perth the following weekend. This leaves the contenders list wide open with the likes of Jett Johnson, Josh Haynes, Dylan Thomas, Zach Loscialpo, Michael Coulter and John McLaughlin looking to challenge for race wins and podiums this weekend.
17-year old Johnson scored a quartet of second-place finishes last time out in Sydney, and will be looking to topple Morris at the top of the PROMAXX Cup standings, while 18-year old Haynes will be looking for a more consistent performance this time around after car troubles earlier in the weekend preceded a storming drive from 21st to fourth in the final race.
Johnson and Haynes will both cut their first laps of the state-of-the-art circuit at The Bend this weekend, as will up to half of this weekend's grid.
The field will take on four races across the weekend, one on Saturday and three on Sunday. The first two races will run over eight laps, the third race for ten laps and a 12-lap finale.
This weekend will also see the return of a Top Ten Shootout to set the grid for the first race of the weekend before a progressive grid format will follow. This will be the second shootout in series history after the first Top Ten Shootout was taken out by George Miedecke at Winton in 2019.
All of Sunday's action can be watched live and free courtesy of a live stream produced by Fuzzy Media, with post-produced highlights to air on 7Mate on Saturday, 7 May.
The TA2 Muscle Car Series headlines the first round of the SA Motorsport Series, racing alongside the Australian Formula 3 Championship, the MARC Cars Australia Championship and the South Australian GT Challenge.
QUOTES

Keith Short, Short Motorsport - #34 Chevrolet Camaro (Stephen's father)

"We stared seeing them around and started researching them a bit, my best friend from years ago works across the road from Peter Robinson's base for TA2 in Queensland, so there was a bit of to-and-fro between my mate and Pete as we got more and more interested.

"I had an Improved Production car as well as my son and it was getting hard to find parts for them, so it really appealed to us the fact you could just buy parts off the shelf and they have the spares truck at the events instead of having to carry around parts ourselves.

"We have run the TA2 at The Bend in some Sports Sedan events already where it could fit in with them and Stephen has done a couple of practice days in the car.

"We're a family team and to see and read about all the other small family teams involved it looks to be a category that was attainable for us and we're really excited to become a part of it.

"Hopefully we can get a few more cars involved in South Australia, we tend to be a little bit behind when it comes to new categories but we had a lot of interest in the car when we ran it for the first time in the Sports Sedan race."

Dean Lindstrom, driver #30 Ford Mustang - TDP Mobile Services

"I'm interested in driving categories with close racing instead of constantly having to upgrade cars to be competitive, so TA2 really ticks the box for me and it looks like a really good category of racing. They look good, sound good, drive well and do everything a good race car should do."

"I did a shakedown of the car in March and then went out last Thursday to The Bend for a test day ahead of the first race.

"The first drive was great, the support from the category from Peter and Cameron Sendall (Technical Manager) was fantastic and that's a real attraction for the category. Even the piece that Paul Morris did on the Enforcer and The Dude Show was a great insight so I felt pretty confident it was the right thing to do and still feel that way heading into the first weekend, the introduction to the car and series has been great.

"For the amount of cars that are similar you'll have good racing because they're all the same, I know in the category there will be people a fair bit quicker because of their driving, so wherever you are in the field you will be close to someone.

"The maintenance should be pretty good and I like the idea that it's supported by the category so you don't have to take loads of spares with you and not be worried that somethings going to happen and you can't get the car ready if you don't have something."

"It'll be a family team with my kids. I originally came from Melbourne so a lot of our racing friends are all based over there but my kids are super keen for me to do it and they'll help out and we'll get a couple of other friends to assist along the way."
SCHEDULE 2022 PROMAXX Performance Exhausts TA2 Muscle Car Series Round 2 - The Bend Motorsport Park, April 22-24
Friday Practice 1 - 9:30am (20 minutes) Practice 2 - 12:30pm (20 minutes) Practice 3 - 3:30pm (20 minutes)
Saturday Qualifying - 9:30am (20 minutes) Top 10 Shootout - 11:30am Race 1 - 1:30pm (8 laps)
Sunday Race 2 - 9:30am (8 laps) Race 3 - 11:50am (10 laps) Race 4 - 2:50pm (12 laps)
ENTRY LIST 2022 PROMAXX Performance Exhausts TA2 Muscle Car Series framed by Hytek Round 2 - National Series & Southern Series, The Bend Motorsport Park, April 22-24
MASTERS, #4 Mark Crutcher (NSW), Ford Mustang - Crutcher Developments MASTERS, #9 Brad Schomberg (QLD), Ford Mustang - Wadley Property Group MASTERS, #10 Russell Wright (QLD), Dodge Challenger - Wright Property Developments PRO, #11 Michael Coulter (NSW), Ford Mustang - Kobelco/Sydney Truck and Machinery MASTERS, #15 Michael Rowell (QLD), Ford Mustang - Pacific Petroleum/Carroll Tyres PRO, #17 John McLaughlin (QLD), Ford Mustang - myraceprofile.com PRO, #21 Zac Loscialpo (NSW), Chevrolet Camaro - Tempest Solutions/Excelerate Motorsport MASTERS, #24 Nicholas Bates (NSW), Ford Mustang - Nicholas Bates Motorsport MASTERS, #26 Jason Hassett (VIC), Chevrolet Camaro - Hass Pumps MASTERS, #30 Dean Lindstrom (SA), Ford Mustang - TDP Mobile Services PRO, #34 Stephen Short (SA), Ford Mustang - Short Motorsport PRO, #37 Josh Haynes (NSW), Chevrolet Camaro - Elvin Group MASTERS, #50 Paul Hadley (NSW), Chevrolet Camaro - Illawarra Engineering Services PRO, #51 Graham Cheney (NSW), Chevrolet Camaro - Illawarra Engineering Services MASTERS, #68 Dylan Thomas (NSW), Ford Mustang - Sensational Kitchens/CXC Racing MASTERS, #69 Anthony Tenkate (QLD), Ford Mustang - Tenkate Plant Hire PRO, #70 Lachlan Granger (NSW), Ford Mustang - Wild Digital PRO, #74 Murray Kent (QLD), Chevrolet Camaro - Retro Motorsport/Fit Flask PRO, #93 Aaron Tebb (NSW), Chevrolet Camaro - Waltec Motorsport PRO, #117 Jett Johnson (QLD), Ford Mustang - NAPA Auto Parts MASTERS, #321 Chris Sutton (NSW), Ford Mustang - Motofit