40th car arrives for TA2 Muscle Car Series
Posted on 16 September 2019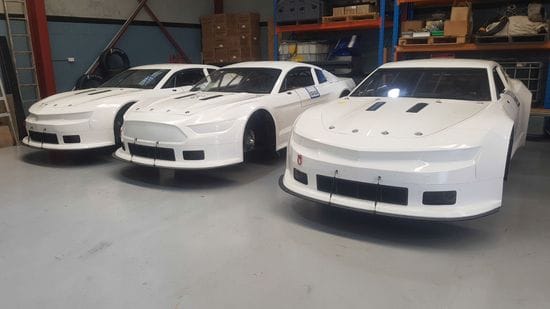 The TA2 Muscle Car Series has welcomed the arrival of its 40th car into Australia.
The category received a container from the United States carrying the 36th to 40th cars last week, all of which have already been sold to a combination of new and existing competitors expanding their commitment to the series.
Following the arrival of the 40th car, series manager Craig Denyer confirmed that TA2 car constructer Howe Racing Enterprises has been commissioned to build a further eight cars to send to Australia before the 2020 season.
The 40th car is a Ford Mustang purchased by Ron Cremen, to add to his existing Mustang to form a two-car Racehire outfit to run as a lease operation for the 2020 season.
Cremen saw the increasing popularity and growth of the series as a justification to expand to a second car.
Another car within the latest delivery is a Chevrolet Camaro purchased by Tasmanian Tim Shaw, who will run the car alongside his recently purchased Dodge Challenger from Keven Stoopman to also form a two-car outfit for 2020.
The TA2 Muscle Car Series heads to Sydney Motorsport Park with a record 31-car field for the penultimate round of the series on September 28/29.
The grid includes the return of Thunder Road Racing Team Australia entries of Don Dimitriadis and David Falvey, the Dodge Challenger of Allgate Racing's Chris Formosa, Camaro racer Darren Berry and Mustang racer Chris La Rosa.
Castrol Harris Racing's Aaron Seton holds a 16-point lead over the Lubrimaxx/Miedecke Motor Group Mustang of George Miedecke, with reigning champion Ashley Jarvis in third a further 40 points behind in the Lighthouse Electrical Camaro.
QUOTES
Ron Cremen, Team Owner - Racehire
"The popularity of the series has exploded over the course of this year and that has warranted the decision to bring a second car into the Racehire team for the 2020 season," said Ron Cremen.
"When the opportunity became available to buy a new car it was a no-brainer decision.
"The demand was there for another lease car in the series, and we are already fielding a number of enquiries about the second car in the lead up to next year."
Craig Denyer, Manager - TA2 Muscle Car Series
"It is amazing how quickly this series had been embraced by both the competitors and fans all over Australia," said Craig Denyer.
"To have 40 cars sold in just our second year of a national series is a testament to the effort that Peter Robinson and the team behind the TA2 Muscle Car Series have put in to get the specifications right for this market: low-cost racing with a big-reward experience that sound, look and race like real muscle cars.
"On top of the 40 now sold, Chas Howe (of Howe Racing Enterprises) has been commissioned to build another eight race cars between now and the end of the season, plus in the next few weeks we hope to announce our 2020 race schedule which will include some exciting opportunities for our racers and fanbase."
ENTRY LIST - 2019 TA2 Muscle Car Series Round 5 - Sydney Motorsport Park (September 27/29)
#2 - Don Dimitriadis (NSW), Ford Mustang - Thunder Road Racing Team Australia #3 - Craig Vanderstelt (SA), Ford Mustang - Zenith Custom Solutions #4 - Mark Crutcher (NSW), Dodge Challenger - Crutcher Developments #5 - Matthew Mackelden (NSW), Ford Mustang - Kubota Racing #6 - Hugh McAlister (NSW), Ford Mustang - Kubota Racing #7 - Michael Kulig (QLD), Chevrolet Camaro - Kulig Engineering #10 - Peter Robinson (QLD), Dodge Challenger - Morgans Investment Consultants #11 - Michael Coulter (NSW), Ford Mustang - Kobelco/Sydney Truck and Machinery #12 - Tim Shaw (TAS), Dodge Challenger - Shaw Developments #14 - Cameron Sendall (QLD), Chevrolet Camaro - Caddy Storage #15 - David Falvey (QLD), Chevrolet Camaro - Thunder Road Racing Team Australia #18 - Shaun Richardson (QLD), Ford Mustang - RTC Group/Road Rage Industries #20 - Darren Berry (QLD), Chevrolet Camaro - Tooth Booth Dentists #22 - Ashley Jarvis (QLD), Chevrolet Camaro - Lighthouse Electrical #24 - Jack Childs (QLD), Ford Mustang - Think Investment Realty #28 - Tim Tritton (QLD), Ford Mustang - Everyday Finance Solutions #29 - Nathan Herne (NSW), Dodge Challenger - Gulf Western Oils #33 - Chris La Rosa (NSW), Ford Mustang - Team Natcorp #35 - George Miedecke (NSW), Ford Mustang - Miedecke Motorsport #44 - Greg Willis (QLD), Chevrolet Camaro - Cross Torque Racing #49 - Chris Formosa (NSW), Dodge Challenger - Ranger Racing/Allgate Auto Doors #50 - Paul Hadley (NSW), Chevrolet Camaro - Illawarra Engineering Services #55 - Russell Wright (QLD), Ford Mustang - RoadBees Transport #69 - Anthony Tenkate (QLD), Ford Mustang - Tenkate Plant Hire #74 - Murray Kent (QLD), Chevrolet Camaro - Underground Civil Supplies #77 - Bill Robinson (NSW), Ford Mustang - Elite Smash Repairs Erina #88 - Aaron Seton (QLD), Ford Mustang - Castrol Harris Racing #95 - Andrew Miedecke (NSW), Dodge Challenger - Ram Trucks Port Macquarie #555 - George Elliot (VIC), Chevrolet Camaro - Dream Racing Australia #777 - Craig Scutella (VIC), Chevrolet Camaro - Dream Racing Australia #888 - Warren Wadley (QLD), Ford Mustang - Wadley Motorsport