All You Need to Know - Round 6 Ipswich
Posted on 13 September 2018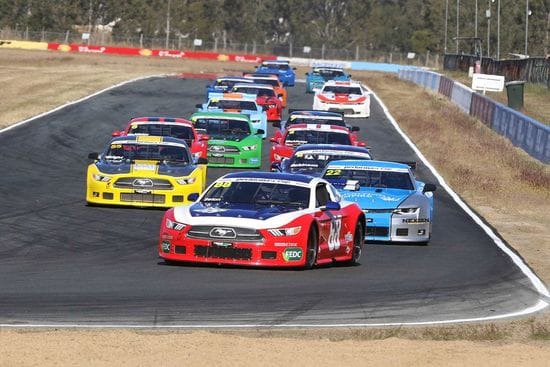 2018 Performax TA2 Muscle Car SeriesRound: 6 of 7Circuit: Queensland RacewayLocation: Ipswich, QLDEvent: QRDC Rd 5Circuit Length:
3.12km
Corners:
6
Key Corner:
Turns 1 & 2
Tickets:
Free Friday, $20, Saturday, $30 Sunday, weekend pass $40. Tickets to be purchased at the gate
Support Categories:
Excel Cup, QLD Sports Cars, Super Karts, Group N Historic Touring Cars, Production Sports, QR Sports & Sedans
Live Timing:
http://racing.natsoft.com.au/results/
To Access: Circuit Racing - Look for Event - QRDC RD 5 (Queensland Raceway Raceway)
Live Streaming:
This event will not be live streamed. Stay tuned to the TA2 Facebook Page and YouTube channel for video content during the event.
SCHEDULE Friday
Private Practice
Saturday
Qualifying: 9:50am Race 1: 11:55am Race 2: 3:05pm
Sunday
Race 3: 9:40am Race 4: 1:40pm
ENTRY LIST
#4 - Mark Crutcher (NSW), Chevrolet Camaro - Crutcher Developments
#5 - Ian McAlister (NSW), Ford Mustang - McAlister Motors/Performax
#6 - Hugh McAlister (NSW), Ford Mustang - McAlister Motors/Performax
#7 - Michael Kulig (QLD), Chevrolet Camaro - Kulig Engineering
#10 - Peter Robinson (QLD), Dodge Challenger - PBR Distributions/BStyled For Life
#14 - Cameron Sendall (QLD), Chevrolet Camaro - PBR Distributions/BStyled For Life
#22 - Ashley Jarvis (QLD), Chevrolet Camaro - Jarvis Racing/Lighthouse Electrical
#44 - Guy Gibbons (QLD), Chevrolet Camaro - Cross Torque Racing/Surety IT
#55 - Russell Wright (QLD), Ford Mustang - RoadBees Transport
#69 - Anthony Tenkate (QLD), Ford Mustang - Tenkate Plant Hire/Performax
#74 - Murray Kent (QLD), Chevrolet Camaro - Underground Civil Supplies
#88 - Aaron Seton (QLD), Ford Mustang - Castrol Harris Racing
#92 - Scott Textor (QLD), Dodge Challenger - Textor Racing
WHO TO WATCH OUT FOR:
Series Leader: Ashley Jarvis - #22 Lighthouse Electrical Chev Camaro Man in Form: Aaron Seton - #88 Castrol Harris Racing Ford Mustang New Racer: Murray Kent - #74 Underground Civil Supplies Chev Camaro
CHAMPIONSHIP POINTS (TOP FIVE):
1st: Ashley Jarvis - 454 2nd: Russell Wright - 451 3rd: Hugh McAlister - 419 4th: Ian McAlister - 399 5th: Cameron Sendall - 385