Competitive field set for TA2 Muscle Car Northern Series event
Posted on 24 June 2021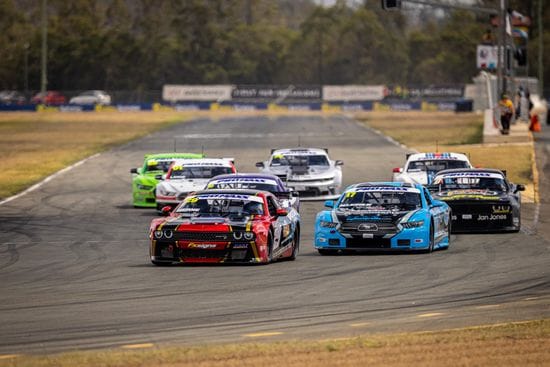 Former rookie of the year Nathan Herne will feature at the first round of the PROMAXX Performance Exhausts TA2 Muscle Car Northern Series this weekend for the 2 Days of Thunder at Queensland Raceway.
Three racers will make their TA2 Muscle Car Series debuts this weekend, including 16-year old third-generation racer Jett Johnson, Victorian John Holinger and Queenslander Adam Hargraves.
Johnson will race a Ford Mustang under the number #117, a nod to the Johnson family racing dynasty, with a full livery set to be revealed on Friday morning.
Jett is the grandson of five-time Australian Touring Car Champion and three-time Bathurst 1000 winner Dick Johnson and son of multiple Supercars race winner Steve Johnson.
The field is made up of five Pro entries and eight Masters racers.
Holinger will be joined by Jason Hassett in making the trip up from Victoria, while Brett Niall, who debuted at the first round of the 2020 season at Winton, will travel from Western Australia for his first drive of his brand new Chevrolet Camaro.
Following a shortened 2020 campaign due to the COVID-19 pandemic, John McLaughlin returns to the wheel of the #17 Mustang and will duke it out for Pro class honours with Herne, Johnson, Niall and Chris Pappas.
After missing the season opener at Sydney Motorsport Park, 2017 national series champion Russell Wright returns to the seat of the #55 Mustang.
Wright will battle for Masters honours against Holinger, Hargraves, New South Welshman Mark Crutcher and Queenslanders Peter Robinson, Anthony Tenkate and Warren Wadley.
The 2 Days of Thunder will hold the first round of the Northern Series following the postponement of the AMRS round scheduled for Morgan Park in May, the northern series will return (along with the national round of the TA2 Muscle Car Series) to Queensland Raceway in August, followed by two New South Wales events at Wakefield Park in October and the Bathurst International in December.
The 2 Days of Thunder event also marks a return to where it all began for the TA2 Muscle Car Series, with a demonstration held for the first five cars to arrive in the country back in 2016, with over 60 cars registered in the country today.
The event format will see cars first hit the track for general practice on Friday. A single 15-minute official practice session will take place on Saturday morning, followed by a 15 minute Qualifying session and the first 12-lap sprint race in the afternoon. The final three 12-lap races will be held on Sunday.
ENTRY LIST 2021 PROMAXX Performance Exhausts TA2 Muscle Car Series Round 1 - Sydney Motorsport Park, March 5/7
MASTERS, #4 Mark Crutcher (NSW), Dodge Challenger - Crutcher Developments MASTERS, #10 Peter Robinson (QLD), Dodge Challenger - PBR Distributions/Wagner Corp PRO, #17 John McLaughlin (QLD), Ford Mustang - My Race Profile MASTERS, #20 Adam Hargraves (QLD), Chevrolet Camaro - Local Search Racing MASTERS, #23 John Holinger (VIC), Chevrolet Camaro MASTERS, #26 Jason Hassett (VIC), Chevrolet Camaro - Hass Pumps PRO, #29 Nathan Herne (NSW), Dodge Challenger - PBR Distributions PRO, #54 Brett Niall (WA), Chevrolet Camaro MASTERS, #55 Russell Wright (QLD), Ford Mustang - Wright Property Developments MASTERS, #69 Anthony Tenkate (QLD), Ford Mustang - Tenkate Plant Hire PRO, #88 Chris Pappas (QLD), Ford Mustang - Wealthrite MASTERS, #888 Warren Wadley (QLD), Ford Mustang - Wadley Developments PRO, #117 Jett Johnson (QLD), Ford Mustang
SCHEDULE PROMAXX Performance Exhausts TA2 Muscle Car Series Northern Series - Queensland Raceway 2 Days of Thunder - June 26-28
SATURDAY 10:10am - Practice 1 (15 minutes) 12:15pm - Qualifying (15 minutes) 3:04pm - Race 1 (12 laps)
SUNDAY 9:20am - Race 2 (12 laps) 11:35am - Race 3 (12 laps) 2:20pm - Race 4 (12 laps)