Coulter and McAlister score maiden TA2 wins in Sydney
Posted on 26 September 2020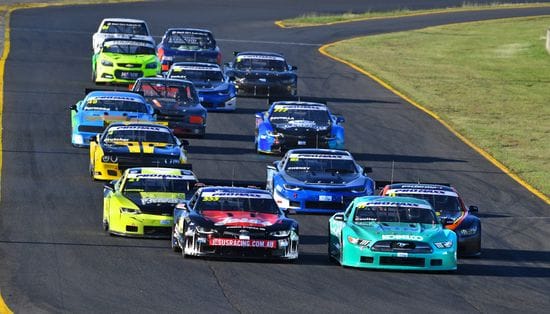 Kobelco Motorsport's Michael Coulter and Kubota Racing's Hugh McAlister shared the spoils as the first TA2 grid since COVID-19 hit the track today for the PROMAXX Performance Exhausts TA2 Muscle Car Series NSW State of Origin event at Sydney Motorsport Park.
After McAlister set pole position in the morning's qualifying session, confusion on the rolling start saw a radio call made from race control which gave McAlister a false cue to take off before the lights went out to commence the race.
McAlister eventually crossed the finish line over two seconds ahead of Coulter, before he was handed a five second post-race penalty for a jump start.
Coulter passed former V8 Utes racer Andrew Fisher off the start and inherited his maiden series win from Fisher.
Series regulars Ian McAlister, Mark Crutcher and Craig Scutella enjoyed a good scrap in the midfield throughout the race, as Crutcher made it home or sixth ahead of McAlister, Chris Formosa and Scutella.
The top four staged a thrilling battle in Race 2 late in the day.
Fisher made a move for the lead until Coulter blocked into Turn 1. McAlister was a man on a mission as he passed Fisher for second at Turn 2 on Lap 4, and then Coulter at Turn 3 two laps later.
The Kubota Racing driver was never headed as he set the fastest lap of the race on his way to his maiden TA2 race win.
Former Toyota 86 racer Zac Loscialpo came to grips with his TA2 Camaro in Race 2, passing Fisher for third on Lap 6 and then Coulter for second on the penultimate lap to finish second on his TA2 debut.
Fisher then passed Coulter for third to score two podiums in his debut in the Jesus Racing Camaro.
The PROMAXX Performance Exhausts TA2 Muscle Car Series returns for two more races tomorrow at Sydney Motorsport Park to decide the NSW State of Origin winner.