Crutcher and Pappas score maiden TA2 wins at Ipswich
Posted on 25 June 2022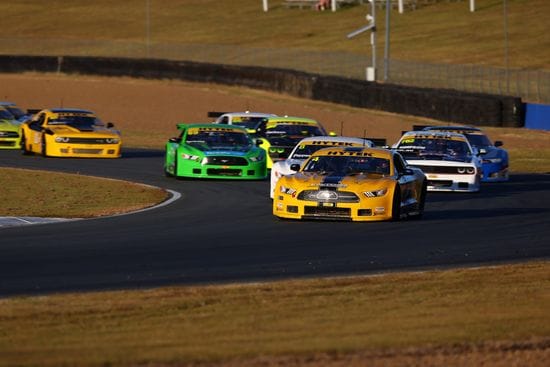 Mark Crutcher and Chris Pappas both scored their maiden race wins in Races 1 and 2 of the TA2 Muscle Car Northern Series framed by Hytek at Queensland Raceway on Saturday for the Shannons 2 Days of Thunder.
A record-breaking qualifying session saw Tim Shaw, Russell Wright and Mark Crutcher all lower the TA2 Qualifying Lap Record of Queensland Raceway set by Aaron Seton in 2019 as Shaw scored his second career PWR Pole Award with a blistering 1:12.3010 effort in the Shaw Motorsport Camaro.
Shaw and Wright drove away from the pack in Race 1 as Shaw lead from the outset. Wright closed in on Shaw as the race went on before the pair made contact on Lap 5. Wright got into the back of Shaw's Camaro and turned him around at Turn 4.
Shaw dropped to sixth as a result of the contact as Wright took the chequered flag first before he was excluded from the race, handing second-placed Crutcher his first TA2 race win.
Crutcher credited the likes of Supercars Champion and NASCAR winner Marcos Ambrose and renowned engineer Paul Forgie for the recent turn of pace in the Crutcher Developments Mustang.
Anthony Tenkate and Graham Cheney were the big movers in Race 1, moving forward from 11th to fifth and ninth to fourth respectively.
Crutcher lead the pack for Race 2 as Tenkate moved up two spots to third on the first lap. Tenkate was on course for a strong finish before he locked up and spun at the Turn 6 hairpin on Lap 6 and retired from the race.
Pappas chased down Crutcher in the early running and made his move for the lead at Turn 3 on Lap 8. He hold on for his first circuit racing victory to lead home a Norwell Motorplex one-two finish ahead of Shaw who charged from eighth to second.
Wright was another hard charger in Race 2 with a clinical drive from 13th to fourth after his Race 1 penalty ahead of rookie James Simpson in a terrific scrap with the top five split by under two seconds.
The TA2 Muscle Car Northern Series framed by Hytek returns for Races 3 and 4 at 9:30am and 12:48pm respectively on Sunday at the Shannons 2 Days of Thunder at Queensland Raceway.
QUOTES

Mark Crutcher, #4 Crutcher Developments Ford Mustang

"It's been such a ride doing this for five years with people I love in motor vehicles I love. I got emotional, it was incredible.

"Even Rusty who finished first but got demoted came and gave me a hug and congratulated me, and bad luck for Tim but to race against names like Tim Shaw and Rusty Wright was a pleasure, I had a smile all the way round.

"So many people have helped me, Stuey at home, my wife Melissa, Peter Robinson, Cameron Sendall and all the TA2 crew and Paul Forgie who has been helping lately with setup.

"We had a lot of help from Marcos Ambrose at the start with the setup, it sounds funny to even say his name, and Paul Forgie also who is a legend of the game. Paul has taken me to the next level with the setup and he has helped a few people but for me the simple things he has done has let me drive the car quicker, I was shocked by the times we were putting out."

Chris Pappas, #8 Wealthrite Ford Mustang

"It felt great to get my first win today and it was a good race out there.

"There were a few good battles. Tenkate moved through early and Crutcher was really quick as well, Shaw moved up towards the end and he was on my tail putting a lot of pressure on but I just had my eyes forward and kept going.

"Norwell has been the most crucial part of my whole development. Two years ago I had never driven a race car before, just a couple of track days.

"I came to Norwell, met the guys there, got in an Excel, got in the TA2, they run my car for me and a few others, it's been good having a whole team so when we do come to meetings like this we've got several drivers who can share data, some might be better in certain corners and some better in others, so we put it all together and as a team we move forward."