Dual Formula Ford State Champion Joins TA2 Muscle Car Series
Posted on 17 December 2018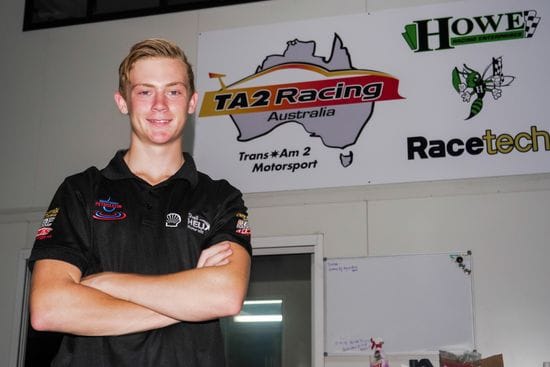 Reigning Victorian and New South Wales Formula Ford Champion Nathan Herne will join the TA2 Muscle Car Series in 2019.
The Lismore teenager progressed to the Australian Formula Ford Championship as a former karting champion and ran a combined state and national campaign for the 2017 and 2018 seasons with BF Racing. This culminated in his maiden national race and round win at the final round at Sydney Motorsport Park to finish fourth in the national championship, while wrapping up this year's Victorian and New South Wales state championships along the way.
Herne also recently completed a driver-evaluation day with Brad Jones Racing at Winton Motor Raceway in a Super 2 specification Holden Commodore.
After testing a TA2 car at Queensland Raceway in November, Herne has been confirmed to race a Dodge Challenger for his maiden TA2 campaign.
"There is no hiding behind the fact that I want to one day reach Supercars and I feel that at this point of time the move into TA2 is going to benefit me massively," said Herne.
"The TA2 category is no doubt going to help expand my tin-top experience around a range of the country's leading circuits, and the category itself is one that is growing, so I can't wait to take this next step."
The son of six-time Australian V8 Dirt Modified Champion Stuart Herne, Nathan looks forward to adding to the family element of the series, which already includes Aaron and Glenn Seton, as well as George and Andrew Miedecke, Hugh and Ian McAlister, Ashley and Paul Jarvis and Michael and George Kulig.
"Apart from the actual competitive side of TA2, I'm really looking forward to working closely with my dad on these cars and being able to benefit from his years of racing and mechanical experience."
The series caters for a same-spec V8-powered Ford Mustangs, Chevrolet Camaros and Dodge Challengers, comprising of a space-frame chassis and a controlled GM Motorsport engine package delivering 525 horsepower.
Last week the series took order of four more cars, with a further four cars to be delivered in mid-January adding to 32 cars in the country.