George Miedecke wins The Bend after heartbreak for Nathan Herne
Posted on 24 June 2019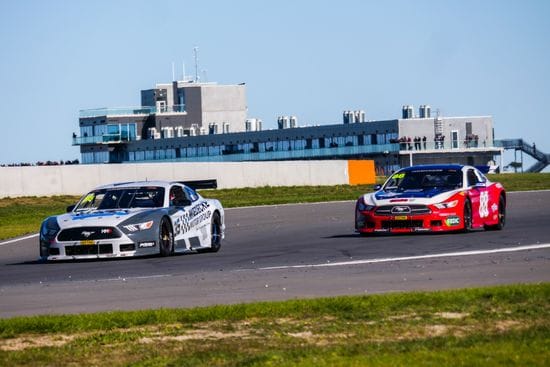 George Miedecke has won his first round in the TA2 Muscle Car Series after claiming Round 3 at The Bend Motorsport Park following victory in the fourth and final race over Aaron Seton and Ashley Jarvis.
Dual Saturday race winner Nathan Herne continued his winning ways earlier in the day with a comprehensive victory in Race 3 and a new lap record at 1:55.8499 as Miedecke and Seton battled hard for the minor placings.
Kobelco Racing's Michael Coulter and Kubota Racing's Matthew MacKelden squabbled for seventh and eighth, while Christopher Formosa in the Allgate Racing 'General Lee' Dodge Challenger scored his first TA2 top-ten result.
Coulter impressed inside the top ten all weekend in his TA2 debut, but was later disqualified from Race 3 and subsequently Race 4 for running incorrect brake pads.
Herne's Gulf Western Oils team discovered a differential issue between Races 3 and 4, and it turned out to be so when Herne bailed from the lead two laps in to Race 4 when the diff failed.
This left Miedecke and Seton to fight it out for the lead, as the pair ran side by side around Turn 18 on the final lap. Miedecke just prevailed over Seton for the race and round win by less than two tenths of a second.
A consistent top-ten weekend escaped Simon Tabinor after he ran off the track and failed to finish in what was a great return to form for the South Eastern European Mustang racer.
Starting from 26th after a spin in Race 3, Kubota Racing's Hugh McAlister charged his way to sixth and picked up the Hypercoil Hard Charger Award for his efforts.
Cameron Sendall capped off a busy weekend of helping fellow TA2 competitors and missing practice to finish ninth outright and was awarded with the Wilwood Big Braker Award.
The Lubrimaxx/Miedecke Motor Group Mustang of George Miedecke won the round over Seton's Castrol Harris Racing Mustang and Ashley Jarvis' Lighthouse Electrical Camaro.
Seton continues to lead the Performax Cup standings by 17 points over George Miedecke, Jarvis, Andrew Miedecke and Nathan Herne, while Russell Wright extended his lead in the Masters division with sixth outright.
Round 4 of the 2019 TA2 Muscle Car Series heads to Winton Motor Raceway in regional Victoria on August 16/18.
QUOTES
George Miedecke, #35 Ford Mustang - Lubrimaxx/Miedecke Motor Group
"It's been a long time coming for us at Miedecke Motorsport," said George Miedecke.
"We joined the series at the final round of 2018 and had high hopes for our team, but I realised quickly that this series has a backbone and it's so tough to win, but to finally get there and win the round is terrific.
"Aaron was applying the blowtorch on me for the whole two races today, it was great high-pressure racing.
"Throughout the weekend we all pressured each other, I was having a go at Nathan, Aaron was having a go at Nathan and Aaron was having a go at me, but between the three of us it was a very intense battle and i'm looking forward to continuing that for the rest of the year.
"The lure of the championship ring and the chance to race TA2 in the United States is a huge prize, but it's going to be a hard fight with Aaron and Nathan for the rest of the year."