Gurton and Johnson share wins on wild Saturday at Winton
Posted on 11 June 2022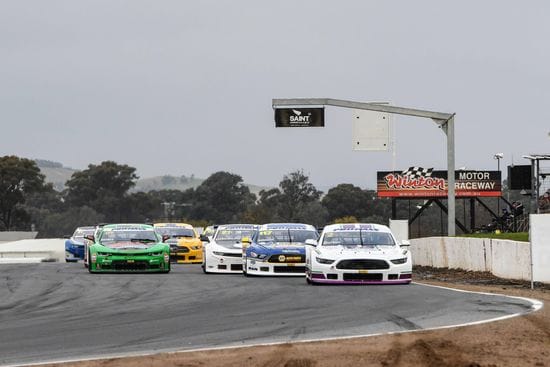 Kyle Gurton and Jett Johnson shared a race win each in the first two races of Round 3 of the PROMAXX Performance Exhausts TA2 Muscle Car Series framed by Hytek at Winton Motor Raceway.
Qualifying saw NAPA Auto Parts Mustang racer Johnson score his third career PWR Pole Award from Dream Racing Australia duo Jackson Rice and Gurton. Round 2 winner Josh Haynes qualified fourth after he brought out the red flag half way through the session after he skated off into the gravel trap at Turn 3.
Race 1 saw Gurton win a last-lap dash to the flag to score his first career circuit racing victory. Polesitter Johnson got the wholeshot off the start and lead until the first safety car period was called on Lap 5 when Rob Leonard spun his Access Line Marking Equipment Camaro at the Turn 5 sweeper.
Gurton took the lead on the first lap after the restart before another safety car was called the following lap when Chris Sutton came unstuck at Turn 12 after he and Murray Kent made contact. The Nuveau Constructions Mustang driver survived a last-lap dash to take the win ahead of Johnson, Rice, Josh Haynes and CXC Racing's Dylan Thomas.
Gurton controlled the lead in Race 2 until a safety car was called on Lap 7 to recover John Holinger's Camaro which was parked on the exit of Turn 4 with an electrical issue.
The field resumed on Lap 10 before another safety car was called when Chris Sutton slid off the track at Turn 4 and came to rest next to Jason Hassett who had a seperate spin at the same corner.
With one lap remaining, Gurton fell foul to a mechanical failure on the restart as Johnson took the lead into Turn 1. Rice chased down Johnson on the final lap and made a move for the lead at Turn 11 as the pair went side-by-side through the final corner.
The pair drag-raced to the chequered flag before contact sent Rice spinning into the field as Johnson took the win. The clash between Rice and Johnson was investigated but determined a racing incident.
Thomas came through to finish second from Tempest Solutions Camaro driver Zach Loscialpo, ahead of a personal best finish for Master Class leader Mark Crutcher in fourth.
The PROMAXX Performance Exhausts TA2 Muscle Car Series framed by Hytek returns for two more races tomorrow which will be live streamed on the TA2 Racing Australia and AMRS facebook pages.
QUOTES

Kyle Gurton, driver #2 Nuveau Group, Ford Mustang

"Race 1 was a fairly fast paced race up the front there with nothing left on the table and I was really happy to come away with my first ever race win.

"When I was in front for the restart, I knew the key was going to be the final restart when I was in the lead so to get the edge on the field off the start really set up for the rest of that last lap."

"I pulled a couple of seconds on the field in the second race and started maintaining it and saving the tyres, but unfortunately a mechanical issue on the left rear at the last restart sent me back down the order.

"It was a big confidence booster and the plan was to build a gap in clean air and conserve, but that happens in racing sometimes and we'll get ready to come back through the field tomorrow."

Jett Johnson, driver #117 NAPA Auto Parts, Ford Mustang

"It was an interesting Race 2, a couple of safety cars but I got the win in the end but certainly not the way you hope to win one.

"Jackson [Rice] was fighting hard as you would expect from someone that close to the lead on the last lap, but a bit of contact coming into Turn 11 and then another incident on the straight was unfortunate but the racing is so close and competitive so we've got to be on our toes the entire weekend.

Jackson Rice, driver #37 Delatite-Ovens Ford, Ford Mustang

"It was a good race, I didn't get a great start and fell back to fifth but we fought our way back through and made a couple of good moves and found ourselves in second on the last lap.

"I went for the lead and unfortunately got turned around, but that's racing and we'll come back tomorrow bigger and better. We're enjoying it down here and fun, hard racing is what it's all about."