Jordan Cox wins on solo TA2 debut
Posted on 13 October 2023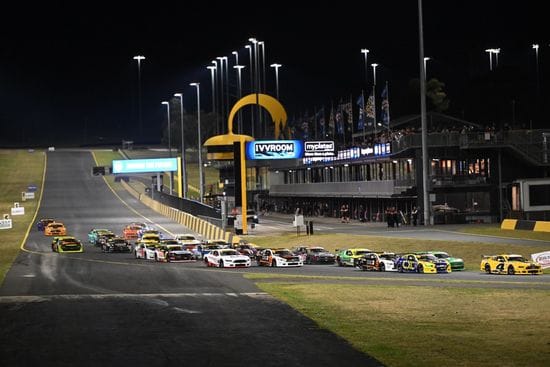 Jordan Cox has dominated the opening day of racing at Round 5 of the TA2 Muscle Car Series Framed by Hytek Steel Framing at Sydney Motorsport Park, converting a record-breaking pole position to a lights-to-flag win in Race 1.

While series newcomers Ben Grice and Tom Hayman, who regularly race in the National Trans-Am Series, topped the times in Practice 1 and 2 respectively, Qualifying saw TCR Australia front-runner Cox steal the show with a new TA2 practice lap record in the Top 10 Shootout, setting a 1:32.8221 for his maiden PWR Pole Award from series leader Dylan Thomas, Josh Haynes and Cody Gillis.

Cox, driving the Crutcher Developments Ford Mustang usually raced by Mark Crutcher, lead the field away off the start, withstanding a charge from Haynes who challenged for the lead on the opening lap through Turns 3 and 4, before shuffling back to third.

Haynes race unravelled at Turn 2 on the following lap after contact with Cody Gillis which sent Haynes back to 17th, before a strong recovery drive back to ninth.

CXC Racing's Dylan Thomas hunted Cox for the lead but could not get close enough to threaten the leader, finishing half a second behind to extend his series lead over seventh-placed Jackson Rice.

Gillis placed third in The Racing Academy Mustang from Tom Hayman and 17-year old Elliott Cleary.

Rice, Kyle Gurton, Haynes and Brad Gartner completed the top ten.

Nicholas Bates lead the Masters class for the majority of the race, before a clash with Russell Wright at Turn 2 on the final lap saw Wright retire, as well as John Holinger in the aftermath. Bates finished in 19th out of 20 finishers, as Kubota Racing's Matthew MacKelden won the Masters class in 12th overall.

West Australian was in the pits on the opening lap with an overheating issue, while series newcomer Josh Thomas failed to finish with a differential issue, and debutant Josh Anderson pitted on Lap 9 with a drivetrain issue.

The TA2 Muscle Car Series framed by Hytek is back in action tomorrow for Races 2, 3 and 4 at 1:06pm, 6:06pm and 8:11pm respectively.

A live stream will kick off at 1pm on the TA2 Facebook Page, Hi-Tec Super Series Facebook and YouTube Channel and on Speedcafe.com, while the broadcast commences live and free on SBS Viceland from 5:40pm, simulcast on Fox Sports and Kayo.

QUOTES

Jordan Cox, driver #4 Crutcher Developments Ford Mustang

"It was awesome to take the win tonight under lights in Sydney. I feel great in the car and I can't thank Mark Crutcher enough for giving me the opportunity to do this in his car.

"Mark has been super enthusiastic. Before we went overseas, he was sending me messages about the set up, what to do, and the boys were in the shed back at Young, sorting it out for me. I've been really spoiled to be able to do this and glad to get a pole position there and a win, with one down and three to go.

"Dylan [Thomas] is fast. Through turn one, turn two, in sector one he's really good, I got him in sector two, then we're sort of pretty even through sector three. He's close and so are some of the other guys behind us. It'll be a good close race for the rest of the weekend."