Haynes takes Morgan Park TA2 Round Win
Posted on 9 July 2023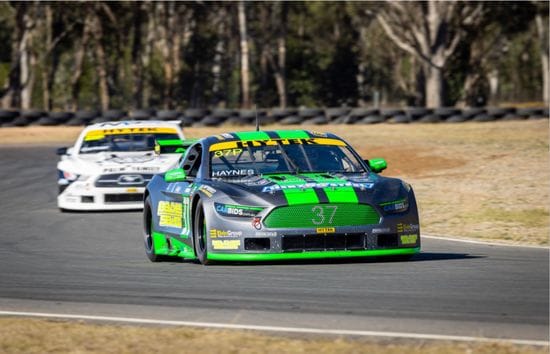 Josh Haynes in the Beaches SeaDoo Mustang won today's final race during Round 4 of the TA2 Muscle Car Series - framed by HYTEK Steel Framing, banking enough points to take the round win.
Jackson Rice, (Radio Industries Mustang) was on for a clean sweep of all races, but was turned around by Brad Gartner at Turn One in the final race, forcing a pit stop due to a bent rim before recovering to finish 9 th and a lap down.
Series leader Dylan Thomas wrapped up third for the round, although with a reduced margin to Haynes.
This morning's second race was won by Rice, from Haynes after Haynes grabbed an early lead before going off at Turn 9 handing Rice the lead.
Gartner and Thomas traded places a number of times, before Gartner passed the CXC Racing Mustang on the line at the flag for third.
Race 3 was another benefit for the Dream Racing team with Rice again winning from Haynes while Thomas and Gartner again crossed the line barely apart.
2019 TA2 champ Russell Wright had a feisty battle with Mark Crutcher, both spinning while Matt Mackelden and Hayden Jackson both suffered tyre issues and fell back.
Zac Losciaplp in the Tempest Solutions Camaro and Graham Cheney finished 5 th and 6 th with best TA2 result for Gunnedahs Greg Keam in 7th Nicholas Bates was a non-starter for the final 20 lap feature race, and Haynes grabbed the advantage at the start and was never headed after Rice was taken out. Gartner was served a 30 second post race penalty for the incident. Mark Crutcher was the big benefactor, going on to finish 3 rd outright from his P9 start, earning the Hypercoils Hard Charger Award, and the Circo Master Class award.
Maitlands Hayden Jackson had a solid run to 4 th , just ahead of Russell Wright and Wilwood Big Braker Award winner Graham Cheney in the IES Camaro.
Keam also won the Bowden's Best Presented and Racetech Rookie of the Round Award
Dylan Thomas continues to lead the series on 822 points from Rice on 809 and Haynes 808 points.
QUOTESJosh Haynes #37 Ford Mustang - Beaches Sea Doo
"Definitely not always the way you would like to win but at the same time we showed our pace all weekend. It would of been great to have a battle with Jackson at the end there but I am super happy to get the win.
The team did an unreal job all weekend and I would just like to thank my sponsors and everyone for sticking by me.
I am looking forward to Sydney Motorsport Park in October under lights."