Herne clean sweeps TA2 Northern Series at Ipswich
Posted on 27 June 2021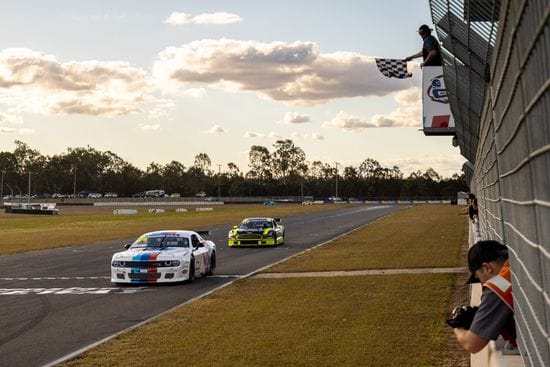 18-year old Nathan Herne has clean swept the first event of the 2021 PROMAXX Performance Exhausts TA2 Muscle Northern Series at Queensland Raceway from Russell Wright and Jett Johnson.
Herne lead home Wright in the first two races of the day, before fending off 16-year old TA2 rookie Jett Johnson in the final.
After recovering from a gear-linkage issue in the opening race of the weekend on Saturday, Johnson charged from fifth to third in Race 2, moving past Anthony Tenkate and John McLaughlin.
Mark Crutcher and debutant Adam Hargraves battled hard for sixth position before the two made contact at Turn 3 on the final lap, with Hargraves handed a 30 second penalty for his part in the incident.
Chris Pappas earned the Hyperco Hard Charger Award for passing six cars from the back of the pack to seventh.
Herne blitzed Race 3, as Wright, Johnson and McLaughlin battled hard for the minor placings.
Crutcher, Chris Pappas and Peter Robinson fought early for sixth place before Pappas ended up in the gravel at Turn 3. Moments later, Jason Hassett suffered a braking issue and collided with Warren Wadley at the same corner which brought a 'clampdown' period to recover the cars. Crutcher took sixth ahead of Chris Formosa, Hargraves and debutant John Holinger.
As the final race got underway, Johnson made his intentions clear and moved into second with a move on Russell Wright at Turn 3, before he set his sights on Herne.
Hargraves spun into the gravel at Turn 6 on Lap 10, which put the field under clampdown for three laps, before a four-lap sprint to the flag.
Herne defended Johnson to the flag, as Wright held off an attack from McLaughlin in the closing stages for third.
Wright ended as the Circo Masters Award winner, while Johnson was awarded the Rookie of the Round for his performance on his debut weekend.
Anthony Tenkate won the Bowden's Own Best Presented Award in the #69 Tenkate Plant Hire Mustang, while John McLaughlin was awarded the Wilwood Big Braker Award in the #17 MyRaceProfile Mustang. Meanwhile, Warren Wadley was awarded the Coolshirt Systems Move of the Moment award for a strong weekend and for welcoming the Johnson family into the series.
The PROMAXX Performance Exhausts TA2 Muscle Car Series moves to Winton Motor Raceway on July 16-18, headlining the Australian Motor Racing Series (AMRS).
QUOTES

Nathan Herne, #29 Dodge Challenger - Valvoline/PBR Distributions

"It was an enjoyable weekend racing in the sunshine here at Queensland Raceway," said Herne.

"It was an awesome weekend in my previous TA2 car and it was all thanks to Cameron Sendall and Peter Robinson to get me back in the car. I haven't been in this car for a year so we tried a few things and had good speed in each race.

"Anytime you get back in a race car is great and it was a low-pressure weekend where we got out there and had great battles on track and came back and had a plenty of laughs in the pits."