Herne promoted to second in TA2 Kings of the North podium reshuffle
Posted on 8 May 2023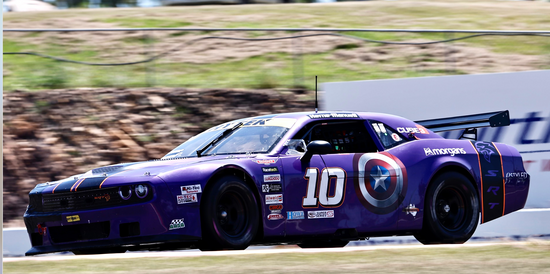 Following a number of post-event stewards decisions, the overall results for last weekend's Round Two of the TA2 Muscle Car Series - framed by HYTEK at Darwin's Hidden Valley have been amended. While Dylan Thomas and Tim Brook maintain the win in the CXC Mustang and the $20,000 cash that goes with the title, Nathan Herne and New Zealand driver Paul Manuell have been promoted to second, with the Brad Gartner/Max Vidau Mustang now third.
Most affected was the Jackson Rice/Tyler Everingham Pedders Mustang, which in post-race investigation was found to have not completed the mandatory ninety second pit stop as required for all entrants, leaving the pit bay early in the final 35 lap feature race and copping a 30 second post-race penalty. This dropped the team from what was second overall to fourth for the round, although Rice maintains his second overall position in the series after two rounds.
The Graham Cheney/Edan Thornburrow IES Camaro, initially third overall for the weekend, was also affected after mid race contact with the Gartner/Vidau Mustang saw the stewards impose a post-race fifteen second time penalty, dropping the team out of the top three to sixth outright.
Dylan Thomas has emerged as the new series leader on 401 points, Rice is second on 390 points, while Nicholas Bates sits in third on 368 points and leads the Circo Master's Award. Eighteen-year-old Hayden Hume heads the Racetech Rookie of the Year Award, while Josh Haynes, Lee Stibbs and Graham Cheney are all still well within reach of the championship title.
Round Three of the TA2 Muscle Car Series - framed by HYTEK will be held at Queensland Raceway on June 2-4 as part of Queensland Raceway's 2 Days of Thunder, promoted and televised live on SBS and Fox Sports/Kayo by the Hi-Tec Oils Super Series.
QUOTESBrad Gartner, #22 Castec Rural Supplies - Ford Mustang
"Great to get a podium and know it was fair all round. Compliments to the TA2 category on an amazing well-run event, I loved the two-driver format and hopefully it's in the calendar again in the near future. Thanks to Max who was a star over the weekend and continually works to help make me a better driver, roll on round three at Queensland Raceway."
Craig Denyer - TA2 National Category Manager
"We have to thank all the competitors that made the trip north, it was always going to be a massive effort and challenge and while the weekend wasn't without its issues, we learnt a lot for the future and everyone walked away after the weekend very positive about the event and the weekend format. Thanks to Steven and Shannon from the Hi-Tec Oils Super Series plus the North Australian Motor Sports Club for making it happen. It's a fabulous facility and its great to be able to give the TA2 Muscle car competitors a new and different experience."