Jackson Rice ready to cement his title credentials at Morgan Park
Posted on 6 July 2023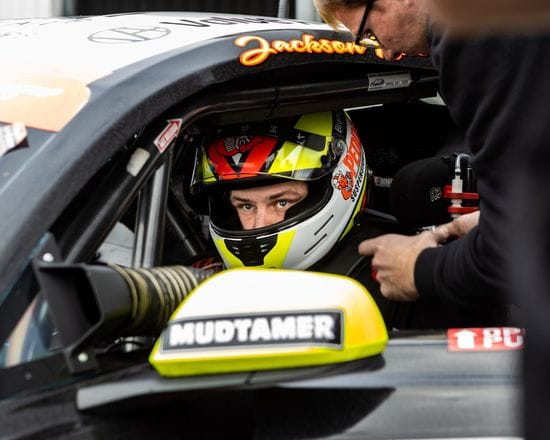 Dream Racing Australia's Jackson Rice will race for the first time at Morgan Park this weekend for Round 4 of TA2 Muscle Car Series, which headlines the Hi Tec Oils Super Series.
Following a consistent event at Queensland Raceway last month and a confidence building appearance at Winton Motor Raceway contesting the National Trans Am Series where he finished inside the top 10, Rice is aiming to close the 23-point margin at the top of the standings.
Adding to Rice's strong momentum was extra seat time courtesy of a test at Dream Racing Australia's home track Calder Park as it built on the discoveries in terms of set-up and reliability at Winton.
This weekend marks Rice's Morgan Park debut, but he has completed preparation in a simulator and studied onboard footage to make the first sessions on Friday that little bit easier.
Rice welcomes Radio Industries as his main supporter at Morgan Park, Mudtamer will continue in a minor role and is expected to come back to a major partner later in the season.
QUOTES Jackson Rice, #7 Ford Mustang - Radio Industries
"We had some really good success at Winton," said Rice.
"We showed some real speed and we came away sorting problems we were having, so heading to Morgan Park with confidence in the car is something I'm looking forward to.
"The boys at Dream Racing Australia and myself have worked really hard behind the scenes to really get the car in tune with me as well as vice versa. We've worked hard on my personal development and making the car mechanically fast, so it's good to see it coming together now.
"I think we saw at the start of the year it was going to be a really close title fight as both Dylan (Thomas) and Josh (Haynes) have been really competitive, but also consistent, which is the main thing. I'm aiming to close the gap to the top and hopefully extend it back to third.
"I haven't been to Morgan Park before, but I've completed laps on a simulator to get a rough idea as it doesn't provide the full exposure you need for a circuit. I'm looking forward to getting to a track we haven't been to before and hoping from all the in-car videos I've watched I can get the jump on early.
"It was really exciting to test at Calder Park and get ahead of the game before the final round of the TA2 Muscle Car Series to be held there. I love that track and I'm super keen to be in a field of 25 or more TA2s around there.
"Mudtamer has come onboard for the year, those guys have been fantastic. We're really lucky Bob Selby-Woods from Radio Industries has come onboard for the weekend as my main sponsor and Mudtamer will come back in that role later in the year."