Jett Johnson wins first ever circuit race in TA2
Posted on 21 August 2021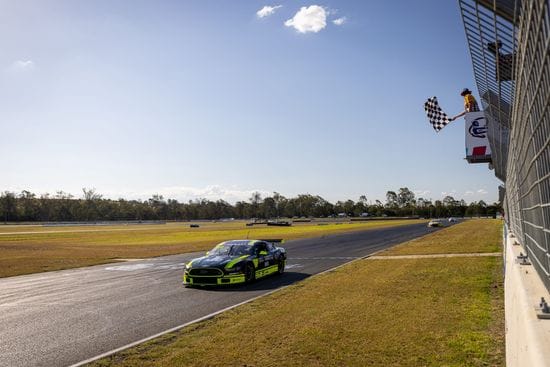 16-year-old Jett Johnson has scored his first circuit racing win of his career from pole position in Race 1 of the PROMAXX Performance Exhausts TA2 Muscle Car Northern Series powered by Atlantic Oils at Queensland Raceway today.
The third-generation of the Johnson racing dynasty scored his first PWR Pole Award earlier in the day by six-thousandths of a second from Russell Wright, with Chris Pappas impressing in third from Murray Kent.
Johnson made a strong start before carnage unfolded behind him. Front-row starter Wright was tagged and spun by Pappas at Turn 1, with Adam Hargraves collecting Wright on the way through.
The race was 'cancelled' (Queensland Raceway's equivalent of a red flag) as teams hurried to patch up the damaged cars of Wright and Pappas before the race was restarted, with Hargraves unable to rejoin the action.
The race was restarted and reduced to ten laps, as Johnson got the jump on Wright again and was never headed from there, setting the fastest lap of the race at a 1:14.0933 on Lap 5.
His grandfather, three-time Bathurst 1000 winner and five-time Touring Car Champion Dick Johnson watched on as Jett took the chequered flag by 1.5 seconds from Wright and Pappas, aided by his Supercars race-winning father Steve Johnson and his Team Johnson squad.
Elsewhere in the pack, Kent slid off the track at Turn 2 and dropped back to seventh, before re-passing Peter Robinson and Karl Begg on his way back to fourth place.
Begg and Anthony Tenkate engaged in a close battle for fifth, before Tenkate experienced a brake issue and spun off at Turn 3 on Lap 8 and brought his race to an end.
Johnson, Wright, Pappas rounded out the podium, followed by Kent and Begg who finished in the top five on debut. Peter Robinson, Warren Wadley and debutant Rob Leonard completed the eight finishers in the field.
QUOTES

Jett Johnson, driver - #117 Full Throttle BBQ Ford Mustang

"I'm stoked to get my first race win today," said Jett Johnson.

"It felt incredible to take that chequered flag, and to have my Grandpa here and my whole family here watching on the pit wall means so much to me.

"I was a bit nervous at the start when Rusty [Wright] was all over me, but after we restarted it was all good from there.

"I just tried to conserve myself, didn't burn up the tyres, didn't burn up the brakes and just tried to save everything for the final three races to come tomorrow."