Johnson on full thrust to dominate TA2 Muscle Cars Day One at Queensland Raceway
Posted on 20 August 2022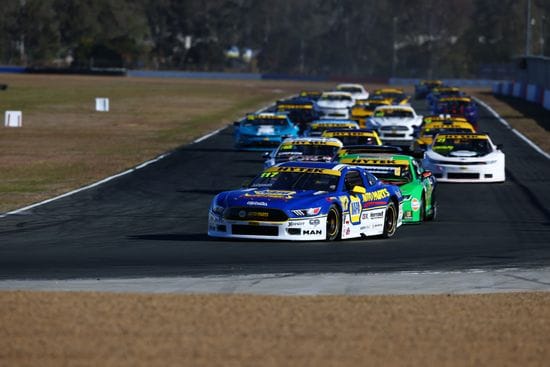 Jett Johnson in the NAPA Auto Parts Mustang delivered the trifecta at Queensland Raceway in Round Four of the TA2 Muscle Car Series - framed by HYTEK.
The 17 year old was fastest in qualifying, won the top 10 shootout taking the PWR Pole Award and dominated the first of 4 races over the weekend by 1.2 seconds from Josh Haynes.
Mustang, Camaro and Dodge filled the first three grid positions with James Simpson's 782 Motors Dodge only 1/10th o of a second off Haynes Camaro and the Johnson Mustang after the shootout. Haynes and Johnson were separated by only 4/100ths of a second. Graham Cheney's IES Camaro, Dylan Thomas and Mark Crutcher all had strong runs, with Zac Loscialpo, Nick Lange, Murray Kent and Nicholas Bates rounding out the Top 10.
South Australia's Brad Gartner in his rookie appearance was unlucky to fall short by 12 kilos on the post qualifying weigh in after setting the 8th fastest time. Driving a brand new PBR spec Mustang, Gartner was impressive in his debut along with team mate Lee Stibbs.
Johnson grabbed the lead at Turn 1 and was never headed in the first race of the weekend, however Haynes in the Elvin Group Camaro pushed him hard early in the race. Simpson dropped back off the start, while Loscialpo made a move on Crutcher under brakes into Turn 1 with the reigning Southern Series champ dropping back to 7th. Thomas also passed Crutcher under brakes into Turn 3 for 6th later in the race while Stibbs and Gartner had a good mid field dice with Gartner coming from the back of the grid.
Dylan Thomas made a move on Loscialpo around the outside at Turn 6 mid race, the two coming together with Loscialpo spinning and dropping well back. New Zealand V8 Ute champ and TA2 Asia series winner Paul Manuell had a consistent debut in Peter Robinson's Wagner Corp Dodge finishing 11th, while Robbo himself debuted a stunning new look purple Challenger to finish 12th. Melbourne's John Holinger also had a career best TA2 result, finishing 9th just ahead of Gartner.
Johnson set the fastest lap on lap 5 with a 1.12.9, Josh Haynes finishing a strong second from Simpson, Cheney, Crutcher, Nicholas Bates and Queenslander Murray Kent.
Race 2 will be live streamed through the AMRS and TA2 Facebook sites from 10am tomorrow morning and replayed on 7Mate Saturday September 3 at 2 pm. Race 3 will be 12 midday and Race 4 at 2.40pm.
QUOTES

Jett Johnson, #117 NAPA Auto Parts Ford Mustang

"We got away well off the start and I was able to control the pace from there. Josh pushed me hard quite early and was always within a second or so, I just had to concentrate on not making any mistakes to bring the NAPA Auto Parts Mustang home and maximise the points haul. The only have to drop one race and it dramatically affects your championship so it was good to start the weekend off with a solid performance in all sessions."