King of the West - Niall Claims the Crown
Posted on 29 June 2023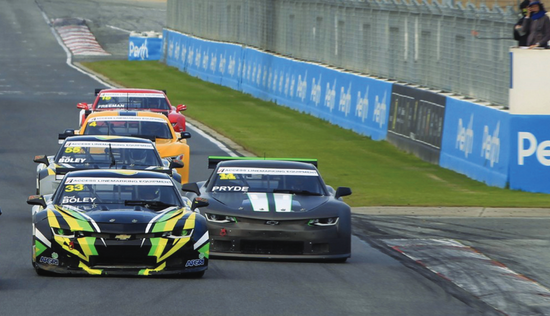 A two round Access Linemarking Equipment TA2 King of the West title in Western Australia saw back to back race weekends at Wanneroo Raceway Perth and Collie Motorplex to launch the new
TA2 Western Series.
East Coast competitors Peter Robinson, Mark Crutcher and Rob Leonard made the long haul across the Nullabor. Joining the TA2 field included well known Sprintcar star Jason Pryde, father and son dairy farmers Brock and Brad Boley, experienced international racer Brett Niall, Clint Rayner, Ron Moller, Greg Freeman, and Camarodriver Glen Melling.
Clint Rayner won pole at Wanneroo on a wet track, before he came together with Brock Boley early in the race causing a safety car. At the restart, Niall bolted early copping a 5 second post-race penalty.
Pryde, the only front runner to stay on wets made the move on Niall for the lead into Turn 1, however faded later in the race in a great three way dice with Brad Boley taking the win in the Camaro after Nialls penalty was applied.
Brock Boley scored the win from the back of the grid in Race 2, while Pryde won the final race from Niall and Robinson after Brock Boley didn't finish.
Round 2 of the TA2 King of the West title moved to Collie Motorplex, built around an old coal mine west of Bunbury. Two new names joined the field in Marc Watkins in the ex-Nathan Herne Dodge Challenger, now owned by Peter George, the TA2 Category representative in Perth, and Mark Cates taking delivery of former TA2 champ Russell Wrights Mustang only days before the race.
Niall scored pole by 0.10sec from Pryde and Brock Boley. Race 1 was wet as Robinson rolled the dice as the only one who gambled with slicks on a drying track. Brock Boley was the first to go at the final corner, while Crutcher made it up to second before spinning. Moller was another victim of the wet track, spinning twice, while Robinson closed on Pryde for third before Pryde spun on the final corner. Niall went on to win from a fast-finishing Robinson and Moller's Camaro.
Robinson and Pryde came together at in Race 2 off the start with Pryde into the back of the Dodge in greasy conditions. Leonard was another to spin at Turn 10, while Moller, Crutcher and Brock Boley all ran hard nose to tail with Boley getting by Crutcher for third on lap 5. Moller made the move stick on Niall for the lead at the final corner to take the win. The final race for the King of the West title was a four way stoush between Niall, Pryde, Robinson and Crutcher. Brock Boley, Ron Moller and Mark Crutcher claimed the top 3 spots in the finale.
In the overall King of the West pointscore combining both the Wanneroo and Collie events, Camaro driver Brett Niall claimed the title by six points from Pryde and Robinson.