Kubota Racing Reveal 2019 TA2 Campaign
Posted on 28 February 2019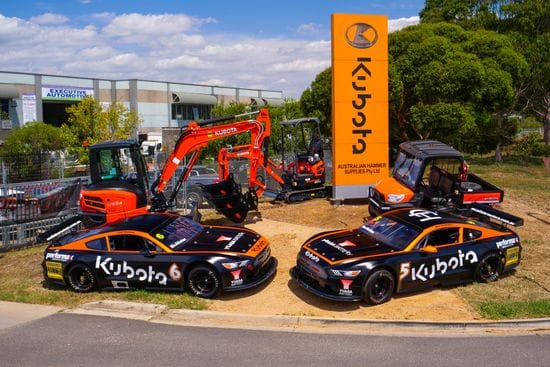 A new two-car Ford Mustang team has broken cover, with Kubota Racing being officially unveiled on the eve of the opening round of the 2019 TA2 Muscle Car Series this weekend at Sydney Motorsport Park.
The team will comprise 2019 TA2 Muscle Car Series runner-up Hugh McAlister, and a newcomer to the series in the form of Matthew MacKelden. The team has also announced support from
Kubota, Australia's largest heavy equipment manufacturer as well as leading battery brand Yuasa Battery, and further support from Australian Hammer Supplies, Performax and Cohen Handler.
MacKelden has made the switch to TA2 following a year in the Super Utes series, and previous experience in Formula Vee, Saloon Cars, Mini Challenge and Production Cars. He is also a two-time class champion of the Bathurst 12 Hour in a V8 Ute, and a broadcaster on a national racing-specific radio show called 'The Driver's Seat', co-hosted by former Supercars driver Steve Johnson.
"We're really excited to reveal our brand new TA2 program with two Mustangs sponsored by Kubota and teaming up with Hugh and Ian McAlister to form a really strong team," said MacKelden.
"This category is going crazy, the cars are exciting, they move, they're fast, they're loud and with the Mustang being so popular here now we thought it was the perfect opportunity to jump onboard.
"The TA2 cars do everything a race car is supposed to do, they turn and put the power down really well and it was great to feel comfortable in the Kubota Racing Mustang straight way in pre-season testing.
"The depth in this class now with names like George and Andrew Miedecke, Aaron Seton, George Elliot and all these drivers with so much experience shows that if we perform here than we have really done ourselves proud."
The team has evolved from the two-car McAlister Motors outfit of the previous two years, with Hugh's father and long-time racing stalwart Ian McAlister stepping out of the seat for the 2019 season in favour of Mackelden.
Ian McAlister acknowledged the tough decision to step away from the driver's seat but admitted it was the right time to make the transition to a team manager role.
"I've been racing for a long time now and when Matthew [MacKelden] came along with the offer from Kubota I felt it was the right time to step away from a full-time drive and put more focus into running the team," said McAlister.
"The cars look fantastic, it's a change from the traditional red we have run in the past but the matte-black and orange finish looks great and we're very happy with the way they have turned out.
"We have a great team and the cars are getting faster all the time so it all bodes well for this season."
The two Ford Mustangs were unveiled at the headquarters of Australian Hammer Supplies in Sydney today with a striking new colour scheme. Both cars feature a matte-black base and orange style stripes running numbers five and six.
13 Ford Mustangs, eight Chevrolet Camaros and four Dodge Challengers complete the record 25-car grid for the opening event of the six-round series this weekend at Sydney Motorsport Park.
The TA2 Muscle Car Series will commence with three practice sessions on Friday, followed by qualifying and two races on Saturday, and the remaining two races on Sunday. Spectator entry will be free both days, with Saturday and Sunday's action will be live streamed courtesy of Blend Line TV on the TA2 Racing facebook page.
[embed]https://www.youtube.com/watch?v=3_RrC6-3TJU&feature=youtu.be[/embed]