Maiden round win for Loscialpo after Haynes and Johnson clash
Posted on 2 October 2022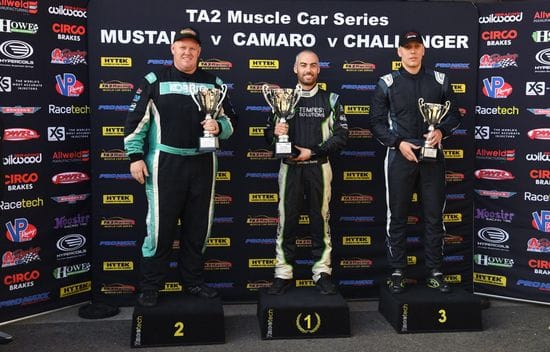 Sydneysider Zach Loscialpo has scored his maiden TA2 round win and victory in the 2022 Southern Series in dramatic fashion after runaway leader Josh Haynes clashed with Jett Johnson in the final race of Round 5 of the TA2 Muscle Car Series framed by Hytek at Sydney Motorsport Park.
Race 1 winner Haynes was unchallenged in Sunday's first race, going back-to-back with a three second victory over a fast-finishing Kobelco Mustang of Michael Coulter, while Loscialpo held second for most of the race before he fell back in the closing stages.
Following a mechanical failure in Race 1, Jett Johnson made a stunning charge from 19th to fifth in the NAPA Auto Parts Mustang to earn the Hyperco Hard Charger Award.
Race 3 was declared a non-event after a spectacular first-lap incident at Turn 2. The incident was triggered by contact between Dean Lindstrom, Mark Crutcher and Aaron Tebb which saw Tebb point the wrong way in the middle of the Turn 2 hairpin, before he was collected by Hayden Jackson, Anthony Tenkate, Mick Rowell and Paul Hadley in a concertina.
All drivers emerged out of their vehicles on their own steam and were cleared by the circuit medical centre, while Lindstrom, Tebb, Jackson, Tenkate and Rowell were ruled out from the final race from damage.
Haynes bolted away at the start of the final race as Johnson, who started fifth, passed Coulter and Stibbs on the first lap to move up to third. Loscialpo fended off every move from Johnson before he passed Loscialpo on Lap 5.
With a significant tyre advantage as a result of the non-showing in Qualifying and Race 1, Johnson reeled in Haynes to be within striking distance for the lead with five laps remaining.
Struggling for tyre life, Haynes managed to hold off Johnson up until the penultimate lap when Johnson got a strong run out of Turn 5 to make his move down the inside at Turn 6. The pair ran side by side around corporate hill as Johnson gained the lead, before Haynes tried to take back the lead at the Turn 8 hairpin.
Haynes locked the rear brakes and made contact with Johnson which turned both drivers around.
Johnson managed to get going before Loscialpo and Coulter caught up to the leaders, however Haynes was stuck in infield and failed to finish, handing Loscialpo his maiden round win from Coulter.
Two top-five finishes earned Mark Crutcher the Circo Masters Class ahead of Nicholas Bates and John Holinger,
Queenslander Nick Lange scored the Wildwood Big Breaker Award, while a consistent weekend in the top-five for Stibbs saw the South Australian finish third outright and earn the RaceTech Rookie of the Round.
Peter Robinson earned the Bowden's Best Presented Award for a new look on the #10 Wagner Group Dodge.
With one round remaining in the 2022 TA2 Muscle Car Series framed by Hytek, Johnson leads the way by 91 points ahead of Graham Cheney, ahead of Masters Class leader Bates in third.
The final round of the 2022 TA2 Muscle Cart Series framed by Hytek is at Winton Motor Raceway on 18-20 November.
QUOTES

Zach Loscialpo - driver #21 Tempest Solutions/Excelerate Motorsport Chevrolet Camaro

"Really proud to get the round win and the Southern Series title. It's an awesome accomplishment for the team. We worked hard, the last round was difficult for us but all the work and late nights have paid off this weekend.

"We had a decent practice on Friday, the car was mediocre so we made some changes for Qualifying and smashed out a good lap in the shootout.

"For the first couple of races we tried to keep up with Josh [Haynes], he was definitely the benchmark all weekend. We made some more changes after today, unfortunately Race 3 was stopped by the big crash but our tyre strategy worked in our favour so we had a couple of tyres spare for the last race.

"We had Michael Coulter behind us all race, I was getting a bit nervous towards the end trying to save tyres and bring it home, but yeah stoked to get the round win.

"Can't thank everyone enough, Waltec Motorsport, Tempest Solutions, my family, my girlfriend, my sister who were all here this weekend and I can't wait to enjoy it with them."