McLaughlin holds off Haynes to win TA2 Race 1 at The Bend
Posted on 23 April 2022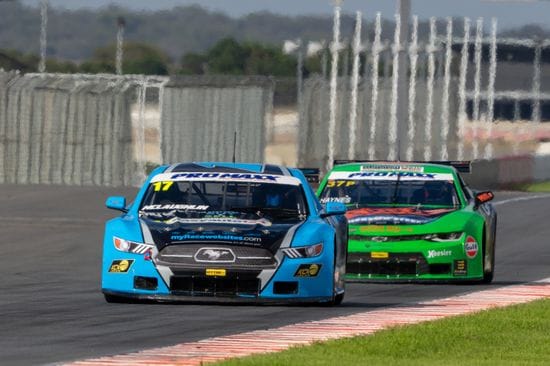 John McLaughlin scored his third career TA2 race win with a narrow victory over Josh Haynes in Race 1 of Round 2 of the PROMAXX Performance Exhausts TA2 Muscle Car Series framed by Hytek at The Bend Motorsport Park.
PWR Pole-sitter Jett Johnson dropped to third off the start as Haynes took the lead from McLaughlin into Turn 1.
Seperate incidents at Turn 1 sent a number of cars scrambling in the midfield. Michael Coulter and Graham Cheney clashed which saw the former pull the Kobelco Mustang off into the infield and retire from the race. There was also a concertina involving Lachlan Granger, Chris Sutton, Jason Hassett and debutant Brad Schomberg which turned Schomberg around and sent him into the pit lane for a quick repair job.
CXC Racing's Dylan Thomas passed Johnson for third on Lap 3 when Johnson went deep into Turn 6 allowing Thomas to take the position on the exit.
Haynes lead the opening four laps before coming across a slowing Brad Schomberg on the exit of Turn 16, this saw McLaughlin close in on Haynes heading into the final section before he ran wide at the penultimate corner, allowing McLaughlin to take the lead and hold on for the win.
Elsewhere in the pack, Mark Crutcher was a major beneficiary of the opening lap melee, making up eight positions to 12th after starting at the back due to car troubles in qualifying, while Graham Cheney charged up to 11th after being caught up in the Lap 1 incident.
Full results remain provisional while Granger is under investigation for a driving infringement and a breach of the tyre regulations.
The PROMAXX Performance Exhausts TA2 Muscle Car Series framed by Hytek returns for Races 2, 3 & 4 tomorrow at The Bend Motorsport Park, which will be live streamed on the TA2 Racing Australia facebook page.
QUOTES

John McLaughlin, driver #17 myraceprofile.com Ford Mustang.

"Really happy to win the first race of the weekend here for my first time at The Bend."

"Haynes is super quick, I was chasing him for the first half of that race, I could see I had a bit more pace in certain areas but in other areas he would pull away, so it was a bit of a see-saw battle the whole time."

"Once we came around on that lapped car, it kind of baulked Josh a little bit and he defended into the next corner which was fair play but then he ran wide on exit which opened the door for me to get by and I was able to pull a little gap on him from there."