Morris & Johnson star in strong grid for TA2 season opener in Sydney
Posted on 16 February 2022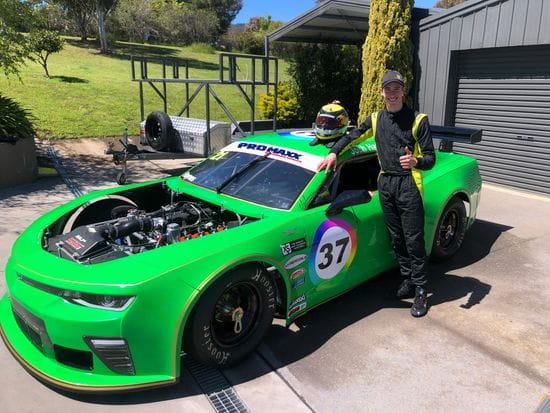 A mix of experienced racers and series debutants make up the 23-car grid for the first round of the 2022 PROMAXX Performance Exhausts TA2 Muscle Car Series framed by Hytek this Friday and Saturday night at Sydney Motorsport Park.
Following a two-year sabbatical of the National TA2 Series due to the COVID-19 pandemic, the national calendar returns this year, with reigning Northern Series champion Jett Johnson and Southern Series winner Mark Crutcher set to hit the track.
Johnson narrowly bested 2017 TA2 champion Russell Wright to the Northern Series last year, as Wright returns for the hunt for his second national title. Nash Morris, who scored three out of four race wins at the final Northern Series event last year, is a late entry for the season opener subbing for Norwell Motorplex Factory Racing teammate Mick Rowell.
This weekend the series is set to welcome no less than five debutants to the grid. Experienced production car and Formula Vee champion Dylan Thomas makes his TA2 Muscle Car debut in the CXC Racing Mustang, while Pulsar Series frontrunner and Bathurst 6 Hour class winner Josh Haynes makes his V8-racing debut in an ex-Loscialpo Chevrolet Camaro.
Haynes, who recently turned 18-years old, is a junior go-karting champion before debuting in tin tops with a successful stint in the one-make Nissan Pulsar Series, has chosen the TA2 formula as the next progression in his motor racing journey for the father-and-son outfit supported by Elvin Group and Rocksolid Concreting.
New South Welshman Nicholas Bates, Lachlan Granger and Chris Sutton are also preparing to make their first TA2 start this weekend.
The competition up front will be red hot, with Queensland guns John McLaughlin, Chris Pappas, Murray Kent, Karl Begg, Adam Hargraves and Nick Lange taking on Sydneysiders Michael Coulter, Zac Loscialpo, Chris Formosa and Graham Cheney.
Anthony Tenkate, Paul Hadley, Rob Leonard and Victorian Jason Hassett complete the grid for the season opener.
The TA2 Muscle Cars will hit the track for four races across the weekend. The first race will be held in twilight conditions on Friday night, kicking off at 6:07pm. Races 2 and 3 will be held on Saturday afternoon before an extended 15-lap finale at 9:25pm.
All of Saturday's action can be watched live and free courtesy of a live stream hosted by the Australian Motor Racing Series, produced by Fuzzy Media.
The TA2 Muscle Car Series headlines the first round of the 2022 Australian Motor Racing Series, racing alongside the Australian Formula 3 Championship, the Super GT 4 Hour Enduro, the V8 Classic Series and other support categories.
QUOTES

Josh Haynes, #37 Chevrolet Camaro, Elvin Group/Rocksolid Concreting

"It was at the Bathurst 6 Hour we first saw the TA2 cars and that's where we decided we would look into them as the next series to progress to."

"As a family we love going our own direction with our racing, we were looking at TCRs and all the other categories you can go to but we saw these and they're loud, they're hard to drive, the racing is awesome and really cost-effective too for the car and how professional the series is managed. As a family outfit it's a big deal for us to be racing in a series as awesome as this so we just can't wait to get it started.

"We'll be doing the full TA2 Muscle Car Series season and if we get the opportunity and we can make a few Trans-Am rounds then we'll give that a go, but we'll see how we go when we kick the season off in Sydney.

"We'll be the father and son team plus a few others who come along to help us out, so we'll turn up with our car trailer and give it a red hot crack.

It's going go be awesome with the whole new light system, it was exciting to drive in a Pulsar so I can't imagine how good it's going to be in the TA2 Muscle Cars.

"We're not going to put too much pressure on ourselves, a top-ten would be a reasonable goal for our first weekend but there will be so much to learn so we'll give it our best shot and look to improve from there.

"Sydney Motorsport Park is a track with very-high degradation rate so it's hard on the tyres by it's nature, so one of the big things will be me learning to drive to the tyre, learning the car and racing in the pack in a left-hand drive car let alone in the dark, so it'll be a steep learning curve."
ENTRY LIST 2021 PROMAXX Performance Exhausts TA2 Muscle Car Series framed by Hytek Round 1 - National Series & Southern Series, Sydney Motorsport Park, 18-19 February
MASTERS, #3 Robert Leonard (QLD), Chevrolet Camaro - Access Linemarking Equipment MASTERS, #4 Mark Crutcher (NSW), Ford Mustang - Crutcher Developments PRO, #8 Chris Pappas (QLD), Ford Mustang - Wealthrite PRO, #11 Michael Coulter (NSW), Ford Mustang - Kobelco/Sydney Truck and Machinery PRO, #17 John McLaughlin (QLD), Ford Mustang - myraceprofile.com PRO, #20 Adam Hargraves (QLD), Chevrolet Camaro - Local Search Racing PRO, #21 Zac Loscialpo (NSW), Chevrolet Camaro - Tempest Solutions/Excelerate Motorsport MASTERS, #24 Nicholas Bates (NSW), Ford Mustang - Nicholas Bates Motorsport MASTERS, #26 Jason Hassett (VIC), Chevrolet Camaro - Hass Pumps PRO, #37 Josh Haynes (NSW), Chevrolet Camaro - Elvin Group/Rocksolid Concreting PRO, #40 Karl Begg (QLD), Ford Mustang - motorsportsales.com.au PRO, #48 Nick Lange (QLD), Chevrolet Camaro - Whitsunday Holiday Rentals PRO, #49 Chris Formosa (NSW), Dodge Challenger - Allgate Motorsport MASTERS, #50 Paul Hadley (NSW), Chevrolet Camaro - Illawarra Engineering Services PRO, #51 Graham Cheney (NSW), Chevrolet Camaro - Illawarra Engineering Services PRO, #67 Nash Morris (QLD), Ford Mustang - Supercheap Auto MASTERS, #55 Russell Wright (QLD), Ford Mustang - Wright Property Developments MASTERS, #68 Dylan Thomas (NSW), Ford Mustang - Sensational Kitchens/CXC Racing MASTERS, #69 Anthony Tenkate (QLD), Ford Mustang - Tenkate Plant Hire PRO, #70 Lachlan Granger (NSW), Ford Mustang - Wild Digital PRO, #74 Murray Kent (QLD), Chevrolet Camaro - Fit Flask PRO, #117 Jett Johnson (QLD), Ford Mustang - Full Throttle BBQ MASTERS, #321 Chris Sutton (NSW), Ford Mustang - Motofit
Format/Schedule: 2022 PROMAXX Performance Exhausts TA2 Muscle Car Series framed by Hytek Round 1: Sydney Motorsport Park (AMRS Round 1) February 18/19, Local time: AEDT
Friday 18 February Practice 1 - 10:18am (20 minutes) Practice 2 - 1:29pm (20 minutes) Qualifying - 3:23pm (20 minutes) Race 1 - 5:07pm - 5:27pm (12 laps - time certain)
Saturday 19 February Race 2 - 2:07pm (10 laps) Race 3 - 4:23pm (10 laps) Race 4 - 9:25pm - 9:50pm (15 laps - time certain)