Near perfect weekend enhances Jackson Rice's title chances
Posted on 13 July 2023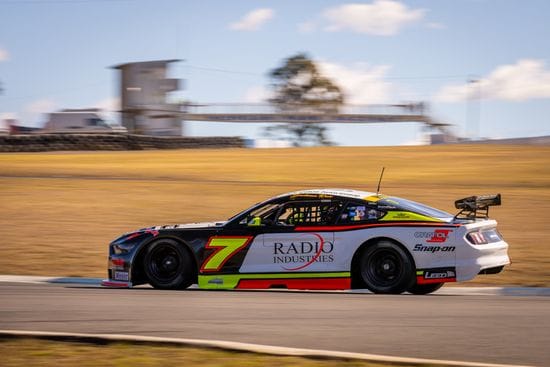 Three wins out of four at Morgan Park has stamped Dream Racing Australia driver Jackson Rice's TA2 Muscle Car Series title aspirations in a successful debut at the venue.
Entering the weekend 23-points behind the series leader, Rice has cut the margin back to 13 despite a disappointing end to the event when he was spun in the final race, which prevented a round clean-sweep.
Qualifying second entering the Top Eight Shootout, Rice maintained this position as he missed pole by a mere 0.162s. However, Rice flipped the script in the opening race to take his first win since the Winton round held earlier this season.
Making his first appearance at Morgan Park failed to worry Rice as he added further victories in Races 2 and 3 to be on course for a rare round clean-sweep in the TA2 Muscle Car Series.
It wasn't to be as contact at the opening corner of the first lap ended his chances as Rice minimised the damage to finish ninth and fall seven-points short of the round victory.
Despite the final race spin, Rice closed the margin at the top of the standings to be equal second heading to Sydney Motorsport Park on October 13-14. In between, Rice is planning to keep match fit by entering select National Trans Am Series rounds.
QUOTES
Jackson Rice #7 - Radio Industries Ford Mustang
"We were having a really good weekend, we started off the front row after the shootout and took three wins," said Rice.
"Credit to Josh (Haynes), he kept me on my toes all weekend and we were looking like we were finally on for our first round win, but at Turn 1 of the last race I got turned around - got absolutely stoved in the rear. It's pretty disappointing. To say I'm gutted is probably an understatement, some days you're the bug, others you're the windscreen.
"We got back out there, credit to the boys as they put a tyre on and raced a lap down. Made a couple of spots up, but we are going to have to look forward to the next event to recoup some championship points.
"A massive thank you to all our sponsors, we wouldn't be without you. Massive thanks to Bob Selby-Wood at Radio Industries, Orafol, Pedders Brakes and Suspension, Snap On, Leed, Value Auto Group, Deloitte Ford, Bonnici and Associates, and Mudtamer."