New faces join TA2 Northern Series round at Ipswich
Posted on 22 June 2022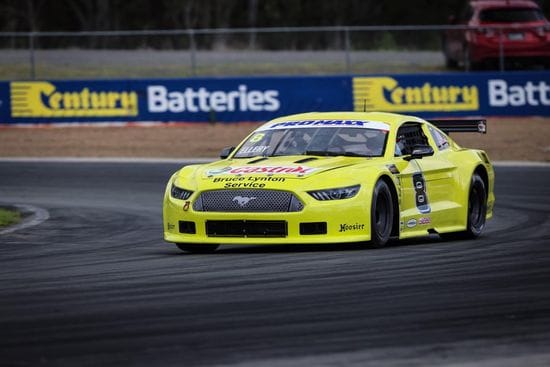 A host of new faces to the TA2 ranks will hit the track for Round 2 of the TA2 Muscle Car Northern Series framed by Hytek this weekend, June 25-26, headlining the Shannons 2 Days of Thunder at Queensland Raceway.
No less than four drivers will make their TA2 debuts this weekend, including 2019 Bathurst 6 Hour winner and Production Car ace Beric Lynton, third-generation racer James Simpson, former Toyota 86 Series racer Hayden Jackson and Production Sports Car racer Jeff Hume.
Lynton is a long-time stalwart of the production car scene in Australia, having won the Bathurst 6 Hour in 2019 and a two-time winner of the Australian Production Cars Championship.
Lynton will take the wheel of an ex Aaron Seton championship-winning TA2 Ford Mustang while he is also awaiting the arrival of a new car into the country by the end of this year to explore lease options to prospective drivers.
The Northern Series is a regional series within the wider TA2 Muscle Car season, combining national and state events for local racers who prefer a regional championship compared to a full national calendar.
The 2021 Northern Series was taken out by third-generation racer Jett Johnson in his first circuit racing title, and recently took part in an evaluation day with championship-winning Supercars squad Dick Johnson Racing in a Shell V Power Racing Ford Mustang.
Nash Morris leads the Northern Series by virtue of taking out Round 1 at Sydney Motorsport Park in March. However, Chris Pappas, Graham Cheney and Mark Crutcher and Anthony Tenkate are effectively battling for the series lead having entered for Round 2.
The TA2 Muscle Car Northern Series framed by Hytek will have four races across the weekend at Queensland Raceway, kicking off with Qualifying on Saturday at 9:52am.
QUOTES

Beric Lynton, #23 Bruce Lynton BM Service Ford Mustang

"We bought this car late last year off Craig Harris. It was Aaron Seton's championship car which we ran Dalton Ellery in Trans-Am earlier in the year."

"We haven't leased it out yet, we're talking to a few people and this round popped up as an extra round before Trans-Am and TA2 are back up here in August, so we thought we would have a bit of fun and come along and have a race."

"The car was there and I had my first drive of it just over a week ago out at Queensland Raceway. It was completely different to drive to a production car which I've raced most of the time.

"It was a good experience and an enjoyable car to drive, it's a challenge getting your head about how to drive it differently.

"The biggest challenge so far has been carrying more corner speed. I've got to stop slowing it down too much for the corners and believe the tyres have got more grip than what we run in production cars, as we ran r-spec tyres compared to the slicks on the TA2 cars.

"There's lots of other little things, nothing completely new or major. I've raced on slicks before, I've raced left-hand drive before, but just putting it all together will be the challenge having driven a paddle-shift production car for the last few years.

"The Northern Series is a good first-up experience to learn the basics of these cars against other TA2 cars out on track. In this environment we're all going to be nose to tail and in traffic I know some people also having their first or second start in these cars."

"No one is out there to swap panels and bash cars up, if there's a quick kid there will be off and we'll do what we do and learn as we go and enjoy it with guys who are like-minded in learning the cars."
SCHEDULE 2022 TA2 Muscle Car Series framed by Hytek Northern Series, Round 2 - Queensland Raceway, June 25-26
Friday General Practice
Saturday Qualifying - 9:52am (20 minutes) Race 1 - 1:12pm (20 minutes) Race 2 - 4:27pm (20 minutes)
Sunday Race 3 - 9:30am (20 minutes) Race 4 - 12:48pm (20 minutes)
ENTRY LIST 2022 TA2 Muscle Car Series framed by Hytek Round 2 - Northern Series, Queensland Raceway - June 25-26
MASTERS, #4 Mark Crutcher (NSW), Ford Mustang - Crutcher Developments PRO, #8 Chris Pappas (QLD), Ford Mustang - Wealthrite/Norwell Motorplex MASTERS, #10 Peter Robinson (QLD), Dodge Challenger - Wagner Corporation MASTERS, #23 Beric Lynton, Ford Mustang - Bruce Lynton BM Service MASTERS, #45 Jeff Hume, Dodge Challenger - Total Parts Plus PRO, #48 Nick Lange, Chevrolet Camaro - Whitsundays Holiday Rentals MASTERS, #50 Paul Hadley (NSW), Chevrolet Camaro - Illawarra Engineering Services PRO, #51 Graham Cheney (NSW), Chevrolet Camaro - Illawarra Engineering Services MASTERS, #55 Russell Wright (QLD), Wright Property Developments MASTERS, #66 Tim Shaw (TAS), Shaw Motorsport MASTERS, #69 Anthony Tenkate (QLD), Tenkate Plant Hire PRO, #81 Hayden Jackson, Dodge Challenger - HJ Plant Repairs PRO, #782 James Simpson (QLD), Dodge Challenger - Seven82 Motors
Pointscore2022 Northern SeriesAfter Round 1 - Sydney
1 - Nash Morris, 220 2 - Jett Johnson, 208 3 - Michael Coulter, 192 4 - Zach Loscialpo, 185 5 - Chris Pappas, 182 6 - Murray Kent, 178 7 - Graham Cheney, 178 8 - John McLaughlin, 165 9 - Chris Formosa, 165 = 10 - Mark Crutcher, 163 =10 - Anthony Tenkate, 163