Pappas leads TA2 Northern Series after Wright sweeps Sunday at Ipswich
Posted on 26 June 2022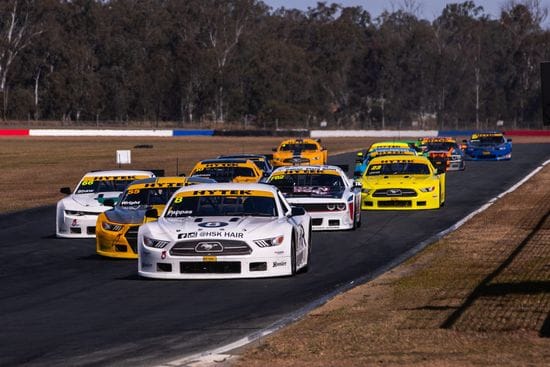 Gold Coaster Chris Pappas now leads the TA2 Muscle Car Northern Series framed by Hytek after taking out Round 2 at the Shannons 2 Days of Thunder at Queensland Raceway ahead of James Simpson and Mark Crutcher.
Inaugural TA2 champion Russell Wright was the best performer on Sunday with victory in Races 3 and 4 in the Sibley Lawyers Mustang ahead of Pappas' Wealthrite Mustang in each. The first race saw a clinical drive from Wright to win by ten-seconds, while the final was a closer affair with a 1.5 second margin after a mid-race safety car.
Wright was lucky to make the start in Race 3 after a late pre-race rear brake rotor change but showed strong to set a fastest lap of 1:13.5030, two-tenths shy of his own race lap record set last year.
Race 2 winner Pappas missed a gear off the start causing the inside line to slow into Turn 1 as Graham Cheney almost collected the back of James Simpson who locked up to miss Pappas.
Hayden Jackson was a big mover on the outside line up to third as Wright made the move for the lead on Tim Shaw down the inside into Turn 3 on the first lap. Jackson was having his best run in fourth before he found the grass at Turn 4 on Lap 6 and fell to 11th.
Pappas lead off the start in Race 4 before Wright regained the lead at Turn 4 on the first lap.
Simpson closed in on Pappas but hung on to third place to secure second outright and the Racetech Rookie of the Round in the Seven 82 Motors Dodge ahead of Circo Masters winner Mark Crutcher.
Crutcher diced with Peter Robinson in a race-long battle before Robinson got in the rear of Crutcher and turned him around at Turn 6 on Lap 10. Robinson was excluded from the race for his part in the incident.
Hayden Jackson caused the only safety car for the weekend when he spun at Turn 3 on Lap 6, while Tim Shaw retired from the final with a mechanical issue.
Crutcher won the Masters Class from Beric Lynton and Paul Hadley. Tim Shaw and Anthony Tenkate shared the Hyperco Hard Charger Award for passing six cars each in Races 1 and 2, Lynton won the Wilwood Big Braker Award and Nick Lange won the Bowdens Own Best Presented Award.
The TA2 Muscle Car Series framed by Hytek next heads to Western Australia for a series of back-to-back exhibition events at Perth's Wanneroo Raceway and Collie Motorplex on 23/24 July and 30/31 July respectively.
QUOTES

Chris Pappas, #8 Wealthrite Ford Mustang

"I feel on top of the world, it's really good to get the round win and to get my first race win this weekend was great

"I'd like to thank everyone from TA2, Tony Quinn and the team at Queensland Raceway for all the work they have done as the place looks great, and everyone from Norwell Motorplex who run my car and train me up and help me to achieve the round win."

James Simpson, #782 Seven 82 Motors Dodge Challenger

"Awesome weekend, it was great to get a podium but one of the best things was to bring the car home in one piece. It was good to meet a lot of nice people and enjoy some good, clean racing.

"Race 1 was awesome to move up from sixth to third, Race 2 had a couple of rookie mistakes and ran a bit wide and cost a couple of positions but I kept moving forwards and I was over the moon with my performance this weekend, I wasn't expecting to finish up on the podium."

Mark Crutcher, #4 Crutcher Developments Ford Mustang

"Saturday was incredible for us with first and third, today we got in a bit of trouble but we were able to get out of it and get enough points to get on the podium in the end."

"It was a great weekend, thanks to my crew and all my family who came out to watch."
Pointscore 2022 Northern Series After Round 2 - Ipswich
1 - Chris Pappas, 393 2 - Graham Cheney, 367 3 - Mark Crutcher, 355 4 - Nick Lange, 329 5 - Paul Hadley, 316 6 - Anthony Tenkate, 301 7 - Russell Wright, 250 8 - Nash Morris, 220 9 - Jett Johnson, 208 10 - James Simpson, 197