Queensland's turn for State of Origin TA2 Muscle Car Series
Posted on 22 October 2020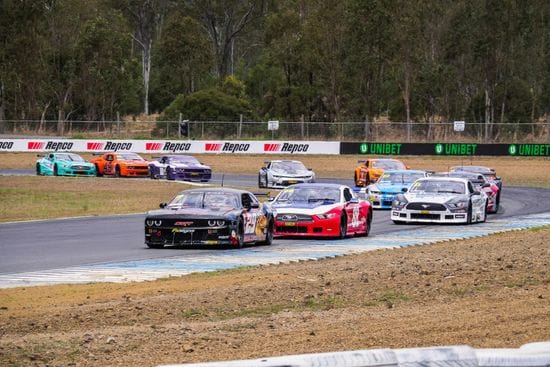 The PROMAXX Performance Exhausts TA2 Muscle Car Series heads to Queensland Raceway this weekend with nine Queensland-based TA2 racers set to hit the track for the Queensland State of Origin TA2 event at the third round of the Australian Motor Racing Series this weekend, 23-25 October.
After recent event cancellations due to border restrictions to control the COVID-19 pandemic, series organisers deemed it impossible to complete a national TA2 series and crown a series champion this year.
Therefore, the decision was taken to crown state TA2 champions through the current "State of Origin" formats specific to New South Wales, Queensland and Victoria.
Three entrants will make their TA2 Muscle Car Series debut this weekend in the form of Formula Ford racer Kyle Gurton in the #2 Garage 1/Nuveau Constructions Mustang, Christopher Pappas making the step up from Hyundai Excel racing in the #8 Wealthrite Mustang and production car racer Nick Lange leasing a Mustang for the round.
The last time the TA2 Muscle Car Series visited the circuit it was 18-year old Nathan Herne who triumphed in three out of four races to win the final round in 2019, while Aaron Seton was crowned the series champion for Castrol Harris Racing.
Herne will return to the Ipswich circuit this weekend as the leading contender in the Gulf Western Oils/Volvo Trucks Dodge.
After scoring his maiden race and round win at the season opener at Winton in March, John McLaughlin will return to racing this weekend in the #17 MyRaceProfile.com Mustang
The other first-time race winner at Winton in Murray Kent will also return in the Fit Flask Camaro after he finished third overall at Round 1.
The nine-car grid is completed by Shaun Richardson in the Road Rage Industries Dodge, Anthony Tenkate in the #69 Tenkate Plant Hire Mustang and Peter Robinson in the #10 PBR Distributions Dodge.
Spectators will be permitted at Queensland Raceway this weekend, with free entry for Friday practice, $20 for Saturday and #30 for Sunday. Kids 12 and under can enter free with a paying adult.
Outside of the outright round podium, a host of regular series awards are still on offer, including the PWR Pole Award, the Hypercoil Hard Charger Award, the Wilwood Big Braker Award and the Bowden's Own Best Presented Award.
The PROMAXX Performance Exhausts QLD TA2 Muscle Car Series is set for practice on Friday, followed by Qualifying on Saturday at 10:35am AEST. Racing kicks off on Saturday afternoon with two 12 lap races on Saturday and two 14 lap races on Sunday.
QUOTES Craig Denyer, TA2 Muscle Car Series Manager

"It is great for the series to be back on track this weekend for our first event for the year at Queensland Raceway.

"The AMRS has done a superb job in getting the series back up and running within the COVID-19 event regulation requirements and although it's mainly a state based event, it will still be very tightly contested.

"The recent NSW TA2 State of Origin event was extremely competitive and I expect this weekend will be just the same.

"It will be the first time series owner Pete Robinson has raced this year after an engine issue in qualifying at Winton earlier in the season, so he will be keen for a good result at his home track.

"Hopefully the Victorian border will open soon, and we can close out the season with a Victorian round and crown our three state champions for the year."
PROMAXX Performance Exhausts 2020 QLD TA2 Muscle Car Series
ENTRY LIST
#0 Shaun Richardson (QLD), Dodge Challenger, Road Rage Industries
#01 Nick Lange (QLD), Ford Mustang, Nick Lange Racing
#2 Kyle Gurton (QLD), Ford Mustang, Garage 1/Nuveau Constructions
#8 Christopher Pappas (QLD), Ford Mustang, Wealthrite
#10 Peter Robinson (QLD), Dodge Challenger, PBR Distributions
#17 John McLaughlin (QLD), Ford Mustang, MyRaceProfile.com
#29 Nathan Herne (NSW), Dodge Challenger, Gulf Western Oils/Volvo Trucks
#69 Anthony Tenkate (QLD), Ford Mustang, Tenkate Plant Hire
#74 Murray Kent (QLD), Chevrolet Camaro, Fit Flask
SCHEDULE (Local time AEST)
FRIDAY Practice 1 - 10:15am (20 minutes) Practice 2 - 1:40pm (20 minutes) Practice 3 - 3:50pm (25 minutes)
SATURDAY Qualifying - 10:15am (20 minutes) Race 1 - 12:45pm (12 laps) Race 2 - 3:35pm (12 laps)
SUNDAY Race 3 - 11:00am (14 laps) Race 4 - 3:35pm (14 laps)