Record grid for TA2 Muscle Car Series debut at The Bend
Posted on 3 June 2019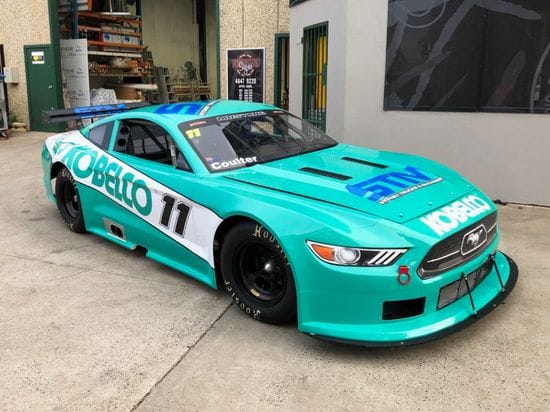 A
record field of 27 cars feature on the entry list for the TA2 Muscle Car Series' debut at The Bend Motorsport Park on June 21-23.
The growing category heads to the all-new state-of-the-art racing facility in South Australia for Round 3 of the series, headlining the third round of the Australian Motor Racing Series program.
The entry list for The Bend features two fresh faces, including ex HQ Holden, Saloon Car and Production Car racer Warren Trewin from Victoria, and former Oz Truck racer Michael Coulter from New South Wales.
Coulter recently acquired the very first TA2 car to arrive in Australia as a Generation Five Chevrolet Camaro, which has since been re-bodied to a Generation Six Ford Mustang supported by Kobelco Construction Equipment and Sydney Trucks and Machinery for their series debut.
Trewin recently tested his ex-Jarvis Racing Chevrolet Camaro at Phillip Island, ahead of the team reveal planned in the lead-up to The Bend.
Drew Ridge and Shaun Richardson will not back-up from Morgan Park, while Victorian Simon Tabinor and New South Welshman Chris La Rosa return to the grid after missing Round 2. Thunder Road Racing Team Australia's Don Dimitriadis also returns to the category after racing at several historic events in the United States.
27 cars will head to Tailem Bend, with the total car count up to 32 cars in the country. Another delivery of eight cars are in transit from Howe Racing Enterprises in the United States, with category management confirming a total of 38 cars have been sold.
20-year old Aaron Seton continues to lead the Performax Cup standings in the Castrol Harris Racing Ford Mustang by 22 points ahead of George Miedecke, with Ashley Jarvis, Andrew Miedecke and Hugh McAlister completing the top five.
Seton is hunting for his third-straight round win after a dominant start to the year, picking up six race wins out of the first eight of the year. George Miedecke and 16-year old Formula Ford champion Nathan Herne remain the other race winners with one win apiece.
QUOTES
Steve Coulter - Team Owner, #11 Ford Mustang (Father of Michael)
"Michael and I couldn't be more excited to join a record 27 entries at The Bend Motorsport Park for our TA2 Series debut," said Coulter.
"We have an awesome relationship with the team at Kobelco and Sydney Trucks and Machinery who were so impressed by the new series, and were excited to come onboard to support our TA2 campaign.
"We watched on from the sidelines as the series grew nationally but once we saw the names that were joining the series, it became more apparent that this was our next move.
"They're loud, they're fast, they look great and extremely affordable for the privateer racer who's looking to step up to something bigger without a huge dollar investment.
"A top ten finish at our first round would be a dream come true, but we cannot thank the TA2 management team for their support and we cannot wait to sit on the grid at The Bend."
Craig Denyer - TA2 Muscle Car Series Manager
"This is the biggest field yet for the TA2 Muscle Car Series, and we are all looking forward to our South Australian debut at The Bend Motorsport Park," said Denyer.
"TA2 Racing Australia has sold 38 cars now, and with only 32 cars in the country the demand has been incredible.
"The final four cars in the next lot are under construction at Howe Racing Enterprises, which are expected to be delivered by the end of July.
"We are excited to welcome two new names on the grid for The Bend, including Warren Trewin in his Camaro and Michael Coulter in his Mustang, we are set for a great event at this incredible new racing facility.
"Round 2 at Morgan Park proved just how competitive this series has become, with 16-year old Nathan Herne taking his first race win over Aaron Seton.
"The battle for the Masters Award is also intense between Russell Wright, Darren Berry, Anthony Tenkate and Peter Robinson all featuring on the podium over the first two rounds."
ENTRY LIST - 2019 TA2 Muscle Car Series Round 3 - The Bend Motorsport Park (June 21-23)
#2 - Don Dimitriadis (NSW), Ford Mustang - Thunder Road Racing Team Australia #4 - Mark Crutcher (NSW), Dodge Challenger - Crutcher Developments #5 - Matthew Mackelden (NSW), Ford Mustang - Kubota Racing #6 - Hugh McAlister (NSW), Ford Mustang - Kubota Racing #7 - Michael Kulig (QLD), Chevrolet Camaro - Kulig Engineering #10 - Peter Robinson (QLD), Dodge Challenger - Morgans Investment Consultants #11 - Michael Coulter (NSW), Ford Mustang - Kobelco/Sydney Truck and Machinery #14 - Cameron Sendall (QLD), Chevrolet Camaro - Caddy Storage #20 - Darren Berry (QLD), Chevrolet Camaro - Tooth Booth Dentists #22 - Ashley Jarvis (QLD), Chevrolet Camaro - Lighthouse Electrical #28 - Tim Tritton (QLD), Ford Mustang - Everyday Finance Solutions #29 - Nathan Herne (NSW), Dodge Challenger - Gulf Western Oils #33 - Chris La Rosa (NSW), Ford Mustang - Team Natcorp #35 - George Miedecke (NSW), Ford Mustang - Miedecke Motorsport #44 - Greg Willis (QLD), Chevrolet Camaro - Cross Torque Racing #45 - Simon Tabinor (VIC), Ford Mustang - South Eastern European Prestige Vehicles #49 - Christopher Formosa (NSW), Dodge Challenger - Allgate Motorsport #55 - Russell Wright (QLD), Ford Mustang - RoadBees Transport #69 - Anthony Tenkate (QLD), Ford Mustang - Tenkate Plant Hire #71 - Warren Trewin (VIC), Chevrolet Camaro - SNB Racing #74 - Murray Kent (QLD), Chevrolet Camaro - Underground Civil Supplies #77 - Bill Robinson (NSW), Ford Mustang - Elite Smash Repairs Erina #88 - Aaron Seton (QLD), Ford Mustang - Castrol Harris Racing #95 - Andrew Miedecke (NSW), Dodge Challenger - Ram Trucks Port Macquarie #555 - George Elliot (VIC), Chevrolet Camaro - Dream Racing Australia #777 - Craig Scutella (VIC), Chevrolet Camaro - Dream Racing Australia #888 - Warren Wadley (QLD), Ford Mustang - Wadley Motorsport