Record Grid for TA2 Season Opener
Posted on 26 February 2019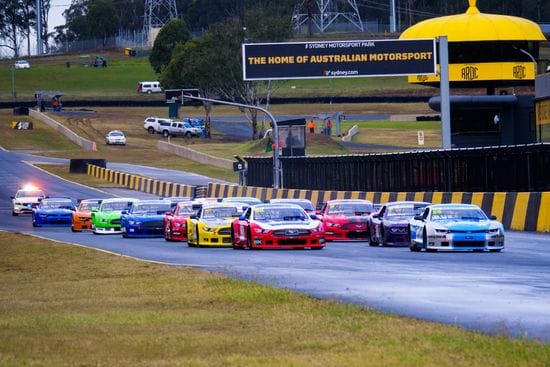 A 25-strong field will feature at the opening round of the 2019 TA2 Muscle Car Series at Sydney Motorsport Park on March 1/3.
Following an off-season of incredible growth, eight new faces will make their TA2 debut at the Western Sydney circuit, while the series has confirmed that all qualifying and races for the opening round will also be shown live and free on the TA2 Racing facebook page.
Former Stadium Super Truck and stock car racer Shaun Richardson joins TA2 in a Ford Mustang to debut at Sydney Motorsport Park, as well as former Super Utes racer Matthew Mackelden and famed NASCAR and V8 Ute racer George Elliot.
Elliot will make his long-awaited return to racing in a two-car effort under the recently-launched Dream Racing Australia banner, where he'll be joined by first-time circuit racer Craig Scutella in a pair of Chevrolet Camaros.
Mackelden has made the switch away from Super Utes, joining Hugh McAlister in a two-car Mustang team backed by Kubota, with Hugh's father and long-time racing stalwart Ian McAlister stepping out of the seat for the rest of the season. Mackelden has been instrumental in the career path of Chris Pither, Jesse Dixon and a number of high-profile drivers plus also hosts a national motorsport radio programme with former Supercars racer Steven Johnson called "The Drivers Seat."
Reigning New South Wales and Victorian Formula Ford Champion Nathan Herne joins the TA2 Series in the Gulf Western Oils-backed Dodge Challenger, the 16 year old joining fellow young guns Drew Ridge and 2018 Rookie of the Year Aaron Seton in a hugely-competitive field of contenders.
They will be up against tough competition from former Super 2 and Australian GT racer George Miedecke following a strong showing on his TA2 debut at the final round in Sydney last year.
Miedecke has made an off-season switch to a Ford Mustang, while Miedecke Motorsport expands to a two-car effort with father Andrew debuting in the #95 Dodge Challenger which George recently used to claim TA2 class honours in the Bathurst 12 Hour Combined Sedans support races.
Other debutants include a trio of Ford Mustangs for New South Welshmen Bill Robinson and Chris La Rosa, and former HQ Holden racer Warren Wadley.
13 Ford Mustangs, eight Chevrolet Camaros and four Dodge Challengers complete the grid, made up of 14 Queensland drivers, eight from New South Wales and three Victorians.
TA2 Muscle Car Series Manager Craig Denyer looks forward to the most anticipated round in TA2 Muscle Car Series history.
"This is by far the largest and most competitive TA2 Muscle Car field yet, so we can't wait to hit the track for practice on Friday," said Denyer.
"The teams have put in a massive effort to ensure the cars really look the part, and I'm sure this weekend will turn on the most intense racing we have seen in the short history of TA2 in Australia."
"Fans will be able to watch the action live and free on the TA2 Racing facebook page, bringing TA2 closer to Australian race fans than ever before."
Defending series champion Ashley Jarvis returns to the track without any running in the pre-season, but looks forward to the added competition at the front of the field.
"I haven't actually touched the car since the burnout after taking the championship in Sydney, but i'm definitely looking forward to getting back on track at Sydney Motorsport Park this weekend," said Jarvis.
"This year we have some young guys who are genuinely using TA2 as a stepping stone so they're definitely going to raise the bar. Aaron [Seton] will be fast, George [Miedecke] has already proven that he'll be the man to beat as well, so it's definitely going to be the most competitive season we've seen in TA2."
"Since I was ten years old I have always ran with my trusty number #22 in Speedway and Go Karting and it's brought me some good luck and fortune in the past, so I thought we'd continue the tradition and run that number rather than the number one for this season."
"Lighthouse Electrical returns as our major backer for the season, whilst we are excited to welcome JV Plumbing and Auto Upgrade as new team partners, as well as returning sponsors Ormeau Physio and Lighting Empire."
"I'd also like to thank the support of my parents Paul and Karen who'll join me at the track this weekend, as well as our mechanic Ben Croft and my wife Rhea."
The TA2 Muscle Car Series will commence with three practice sessions on Friday, followed by qualifying and two races on Saturday, and the remaining two races on Sunday. Spectator entry will be free both days, with Saturday and Sunday's action will be live streamed courtesy of Blend Line TV on the TA2 Racing facebook page.
ENTRY LIST - 2019 TA2 Muscle Car Series
Round 1 - Sydney Motorsport Park (March 1/3)
#3 - Drew Ridge (NSW), Ford Mustang - ikon Signs #4 - Mark Crutcher (NSW), Dodge Challenger - Crutcher Developments #5 - Matthew Mackelden (NSW), Ford Mustang - Kubota Racing #6 - Hugh McAlister (NSW), Ford Mustang - Kubota Racing #7 - Michael Kulig (QLD), Chevrolet Camaro - Kulig Engineering #10 - Peter Robinson (QLD), Dodge Challenger - Morgans Investment Consultants #14 - Cameron Sendall (QLD), Chevrolet Camaro - Caddy Storage #18 - Shaun Richardson (QLD), Ford Mustang - Road Rage Australia #20 - Darren Berry (QLD), Chevrolet Camaro - Tooth Booth Dentists #22 - Ashley Jarvis (QLD), Chevrolet Camaro - Lighthouse Electrical #28 - Tim Tritton (QLD), Ford Mustang - Everyday Finance Solutions #29 - Nathan Herne (NSW), Dodge Challenger - Gulf Western Oils #33 - Chris La Rosa (NSW), Ford Mustang - Team Natcorp #35 - George Miedecke (NSW), Ford Mustang - Miedecke Motorsport #44 - Greg Willis (QLD), Chevrolet Camaro - Cross Torque Racing #45 - Simon Tabinor (VIC), Ford Must ang - South Eastern European Prestige Vehicles #55 - Russell Wright (QLD), Ford Mustang - RoadBees Transport #69 - Anthony Tenkate (QLD), Ford Mustang - Tenkate Plant Hire #74 - Murray Kent (QLD), Chevrolet Camaro - Underground Civil Supplies #77 - Bill Robinson (NSW), Ford Mustang - Elite Smash Repairs Erina #88 - Aaron Seton (QLD), Ford Mustang - Castrol Harris Racing #95 - Andrew Miedecke (NSW), Dodge Challenger - Ram Trucks Port Macquarie #111 - George Elliot (VIC), Chevrolet Camaro - Dream Racing Australia #777 - Craig Scutella (VIC), Chevrolet Camaro - Dream Racing Australia #888 - Warren Wadley (QLD), Ford Mustang - Wadley Motorsport