Rice wins TA2 opener at Morgan Park
Posted on 8 July 2023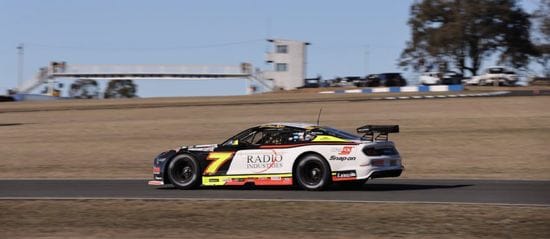 Wodonga's Jackson Rice in the Radio Industries Mustang claimed today's first race for Dream Racing at round four of the TA2 Muscle Car Series - framed by HYTEK Steel Framing at Morgan Park Raceway, Warwick today.
Rice made the winning move on pole sitter Josh Haynes on Lap 4 at Turn 7. Haynes was quickest in qualifying taking the PWR Pole Award in the Top 8 shootout by 1/10th of a second from Rice, series leader Dylan Thomas and Brad Gartner in the rebuilt Australian Tarmac Rally Mustang after the recent hit at Queensland Raceway.
Graham Cheney's IES Camaro was the big improver in the shootout, finishing 5th while series frontrunner Nicholas Bates missed a gear on entry to the Turn 3 sweeper to be 6th fastest from Hayden Jackson, Zac Loscialpo. Russell Wright and Mark Crutcher.
Haynes and Rice took the green for the first 12 lap stoush from Thomas, Gartner and Cheney, while Nicholas Bates Mustang fired off at Turn 10 after a touch from Loscialpo.
Rice closed on Hayne's Beaches Sea Doo Mustang and on lap four made the move cleanly for the race lead and was never headed. Mark Crutcher made the move on Russell Wrights Crew Commercial Mustang for 9th , to be re-passed a lap later while Gunnedah's Greg Keam joined the party in his DeBeers Refinish Mustang only to spin late in the race at Turn 7 while running side by side with the Crutcher Developments Mustang.
Gartner had a lonely run in 4th, while Maitland's Hayden Jackson closed on Cheney for 6 the with Crutcher, Loscialpo, Wright and Matt Mackelden's Kubota Racing Mustang rounding out the 10.
Keam recovered to finish 11th from Bates, Rob Leonard in the Access Line Marking Equipment Mustang and Paul Hadley's Camaro.
Tomorrow's races will be live streamed from 9.30 am on the Hi-Tec Oils Super Series Facebook page and Speedcafe before going live on SBS Free to Air at 1 pm and simulcast on Fox Sports 505.
Race 2 will be at 10.23, Race 3 at 1.05 pm and the final 20 lapper wraps up the live telecast from 3.15 pm.
QUOTESJackson Rice, #7 Ford Mustang - Radio Industries
"Josh was really fast off the bat, we set our tyres up low to come on late and have good mid race pace and we did exactly that.
The car was good we took an opportunity when one presented and it was a good race.
I put the pass on Josh between turns 5 and 6.
We tried to conserve towards the end, we were obviously leading there was a bit of clean air trying to look after the rubber. We have a lot of laps to do tomorrow, we have a 20 lap race at the end of the day."