Rookie Josh Haynes wins TA2 Round 2 at The Bend
Posted on 24 April 2022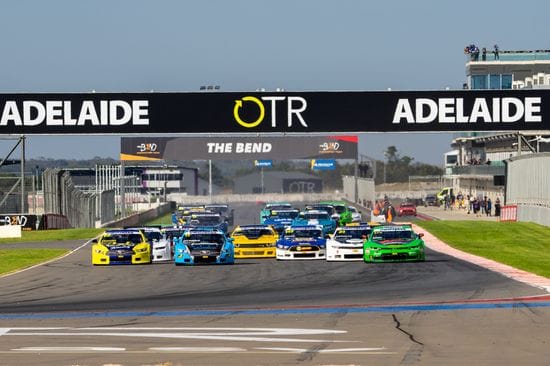 18-year old rookie Josh Haynes has scored his first TA2 race and round win at The Bend Motorsport Park on a day where John McLaughlin and Josh Haynes shared the other two race wins in the PROMAXX Performance Exhausts TA2 Muscle Car Series framed by Hytek.
Race 2 saw John McLaughlin go back-to-back with a narrow victory over Haynes, Dylan Thomas, Johnson and Aaron Tebb.
321 Motorsport's Chris Sutton climbed up ten spots from 17th to seventh to earn the Hyperco Hard Charger Award.
Johnson got the holeshot off the start of Race 3 to go from fourth to the lead at Turn 1 as McLaughlin dropped back to fourth. Johnson and Haynes gapped the field and battle for the lead throughout. Johnson held off Haynes right up until the last lap when Haynes got a good run out of Turns 15 and 16 as Johnson defended on the inside into the final two corners. Haynes got under Johnson as he ran deep at Turn 17 and took the lead down the inside into the final corner to take the win by two-tenths of a second, with Thomas only another tenth behind on the line.
Former touring car racer Dean Lindstrom scored a personal-best finish of sixth in Race 3 and won the Circo Masters Class on his debut weekend in the series.
Johnson redeemed himself in the final race, taking a commanding four-second win from Haynes and Thomas. McLaughlin was fourth in the final race but his earlier race wins saw him secure second outright and also the fastest lap in all four races. Thomas meanwhile placed third in all four races but ended fourth on points for the round.
Mark Crutcher moved up from 12th to sixth ahead of Murray Kent and Lindstrom, while Brad Schomberg ended a strong debut by charging from 15th to ninth in the finale.
CXC Racing's Dylan Thomas won the Wilwood Big Braker Award, while Waltec Motorsport's Aaron Tebb won the Bowden's Own Best Presented Award.
Jett Johnson now leads the series on 413 points from Zach Loscialpo, who had a consistent weekend in the top ten, and McLaughlin.
Round 3 of the 2022 PROMAXX Performance Exhausts TA2 Muscle Car Series framed by Hytek heads to Winton Motor Raceway on 10-12 June.
QUOTES

Josh Haynes, driver #37 Elvin Group Camaro

"This place is unreal, just to be here and come all this way and learn the track, but to come away with the round win it's been incredible.

"I can't thank the team enough, there have been a lot of hard yards over the past couple of months to be here, so really happy to reward them with this result."

Jett Johnson, driver #117 NAPA Auto Parts Mustang

"The last race felt like a bit of redemption. It's been an unreal weekend, the racing has been awesome and all we needed was to bank points and keep things straight so I'm pretty happy with our performance leaving here.

"I'm really happy with how the weekend went and we're already looking forward to the next round at Winton."

John McLaughlin, driver #17 MyRaceProfile.com Mustang

"We came out punching early on and maybe we used the best of our tyres a bit early.

"We still had the fastest lap in every race so the car was fast, it was just a matter of getting the best out of it at the start of the races which we struggled a bit with and lost track position but came home strong in most races."