Russell Wright set for TA2 comeback at Queensland Raceway
Posted on 29 May 2023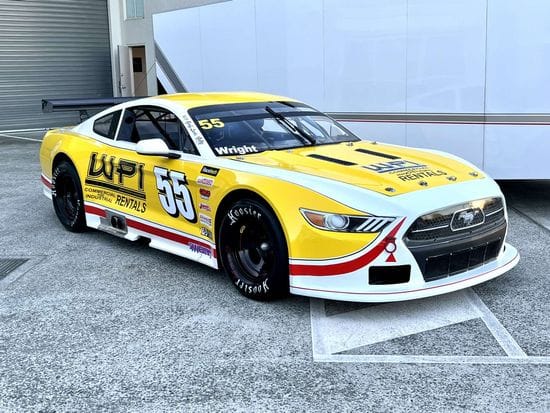 Inaugural Australian TA2 champion Russell Wright will make a stunning return to racing the TA2 Muscle Car Series framed by HYTEK Steel Framing for the remainder of this year's season.
After hanging up his helmet early last year, the Gold Coaster made an impressive return to TA2 racing recently at Round 2 at Darwin's Hidden Valley Raceway for what was the world first TA2 two-driver event, where he paired with Rob Leonard in the #40 "Slow Down Workers Around" Access Linemarking Equipment/Municipal Workers Australia Mustang.
After a successful weekend in Darwin, the pair came home with the Bowdens Own Best Presented Award and had a strong points finish in seventh overall.
Wright has purchased the Aaron Seton ex 2021 Ford Mustang that was owned and prepared by Harris Racing. Seton drove the car for five rounds before he moved into the Dunlop Super 2 Series. The keys were then handed to John Harris, Craig Harris's son, who raced it in the National Trans Am Series for a number of rounds.
Wright has applied his traditional yellow colour scheme to the Mustang, that features major backing from Wright Property Investments.
Wright was the first Australian to venture to join the American Trans-Am Series TA2 class in 2018, when he raced at the Circuit of the Americas as reward winning the 2017 title. Wright had a competitive outing with Stevens-Miller Racing, the same team Nathan Herne now drives for full time.
A strong field is expected to hit the track this weekend for Round 3 of the TA2 Muscle Car Series framed by Hytek, with the Hi-Tec Oils Super Series heading to Queensland Raceway as part of their annual 2 Days of Thunder event. CXC Racing's Dylan Thomas leads the championship going into Round 3 closely followed by Jackson Rice and Nicholas Bates.
QUOTES

Russell Wright, driver #55 Ford Mustang - Wright Property Investments

"Darwin was a great round for me. It had been around a year since I had raced a TA2 car and I was very thankful to Rob and Jill Leonard for giving me the opportunity to drive the car up there.

"I have been asking myself for the last year about getting back into the category and Darwin definitely was the catalyst that made me decide I was missing the action.

"I have seen a massive change in the series, there is now a mixture of older guys and so much younger talent coming into the series. It is developing into a great class and the competition has lifted since I last raced.

"I can't wait to hit the track on Friday at Queensland Raceway for Round 3 of the series and I'm looking forward to the rest of the year."