Smith edges Shaw to win Victorian TA2 State of Origin Round
Posted on 29 November 2020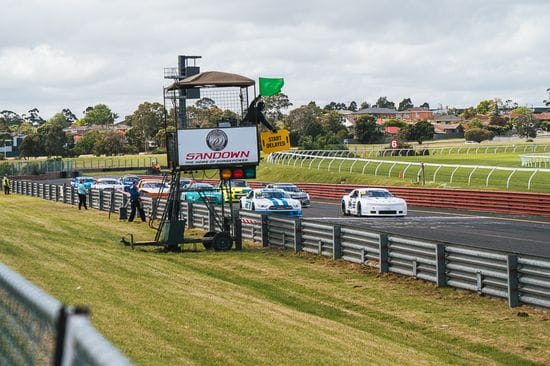 Victorian Graham Smith has scored his maiden PROMAXX Performance Exhausts TA2 Muscle Car Series round victory after he edged out Sunday's dual race winner Tim Shaw by two points.
Shaw got one back on Smith to win Race 3 on Sunday morning after a race-long scrap with Smith.
The Tasmanian lead the opening lap before Smith got back in front, passing Shaw on the inside at Turn 1.
Smith lead the majority of the race before a safety car was called to recover Jason Hassett's Camaro which spun at the penultimate corner, with the team replacing the clutch before the last race.
With a last-lap dash to the flag, Smith spun the wheels on the restart as Shaw dragged alongside to Turn 1. The pair ran side-by-side through Turn 1 as Shaw got the job done into the Turn 2/3 chicane to take the win from Smith, Warren Trewin and Steve Coulter.
With the majority of the field opting for wet tyres for the race, Queenslanders Peter Robinson and Cameron Sendall gambled on dry tyres, but that didn't pay off as the pair both dropped to the back of the pack.
Race 4 saw another cracking race between Shaw's Camaro and Smith's Mustang, as the pair battled for the lead throughout the entire 15 lap finale.
Smith lead after the first lap before Shaw regained the lead on the back straight. Smith slowed towards the end to secure the round win as Shaw won by 2.3 seconds.
Shaw took the flag to win both of Sunday's races, but fell only two points shy of Smith who scored the outright win of the Victorian State of Origin round.
Peter Robinson earned the Hyperco Hard Charger Award for fighting back from seventh to third, while Cam Sendall came through from eighth to fourth ahead of Trewin in fifth.
Kobelco Motorsport's Steve Coulter finished sixth in the last race and earned the Coolshirt Systems Move of the Moment Award for filling in for son Michael at late notice, while Jason Hassett came away with the Bowden's Own Best Presented Award for the Hass Pumps Camaro.
That concludes the 2020 season of the PROMAXX Performance Exhausts TA2 Muscle Car Series, with a 2021 calendar expected to be announced shortly.
QUOTES

Graham Smith, #27 Hazard Solutions Ford Mustang

"It's been brilliant, even in the different conditions we faced today, it was just great to survive through those," said Graham Smith.

"I was really happy to keep up with Tim Shaw as he was putting down some strong laps in practice and won the pole award with a 1:14.7, so I was just glad to keep up with him in the races and win a couple along the way as well.

"I could have tried a dive bomb or something in the last race but it wasn't worth it, I knew if I finished second I'd get the round win so I just tried to keep my head up and come home with a clean car.

"I went up to Norwell Motorplex last year and they taught me a lot. I also had Jason Bargwanna mentor me back in the 86 series, he even came up to me before the wet race this morning and gave me some tips, I'm really grateful for those experiences that have helped me.

"Hopefully we can have a clear year ahead in 2021 so we can get some decent racing in, it would be good to go interstate and try our luck at some different tracks.

"I appreciate the support from my family and my pit crew, but also from PBR, Howe Racing Enterprises, PROMAXX Performance Exhausts and everyone, we couldn't go racing without their support and it was great to get back on track this weekend."