Solid points haul for Jackson Rice at Queensland Raceway
Posted on 5 June 2023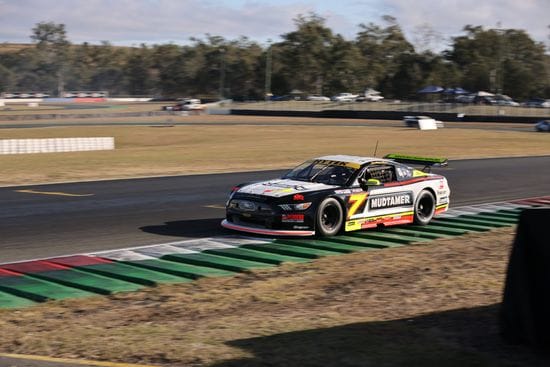 Dream Racing Australia's Jackson Rice left Round 3 of the TA2 Muscle Car Series at Queensland Raceway with a solid bank of points keeping him well in the title fight. Entering the event five-points in arrears of series leader Dylan Thomas, Rice aimed to stay in touch and succeeded in doing this last weekend. Rice welcomed new sponsor Mudtamer car mats for Queensland Raceway where he qualified in third before finishing fourth in the Top 10 Shootout on a 1m 12.933s. Maintaining fourth in an uninterrupted opening race place set Rice up for a strong run of results as title rival Thomas remained in close proximity. Displacing Thomas in a chaotic Race 2 after a great start and clean overtake at Turn 3 enabled Rice to score a podium result in third. Dropping a wheel off cost Rice two spots as he dropped to fifth in the third event of the weekend leaving the 20-lap final to round out proceedings. As the weather changed ahead of the final event of the weekend, it led to many drivers including Rice entering the pits to change tyres. A fine charge through the field followed for Rice as he worked hard to keep the Mudtamer Ford Mustang on the circuit and avoid many incidents to cross the line fifth, although a 30s post-race penalty led to seventh. Although he has lost a little ground to Thomas as the deficit grew to 17-points, Rice will aim to reduce this at the next round of the TA2 Muscle Car Series at Morgan Park, Queensland on July 8-9.
QUOTESJackson Rice - #7 Mudtamer/Dream Racing Australia Ford Mustang
"It was good to get some points in the bank, I think we lost a little bit in terms of margin to the title leader," said Rice.
"From a championship point of view, it's going to be tight and close racing, which is what we want. "The guys at Mudtamer came out and they were fantastic. They spent the weekend with us, we introduced them to the Dream Racing Australia team and really appreciate the support I receive from them, so I hope to continue the partnership.
"I'm looking forward to Morgan Park as it is a very technical circuit as our cars traditionally stop, turn, rotate really well, so our short track set-ups are very strong, so I can really have a crack!"