TA2 Championship Ring returns for 2022
Posted on 10 November 2022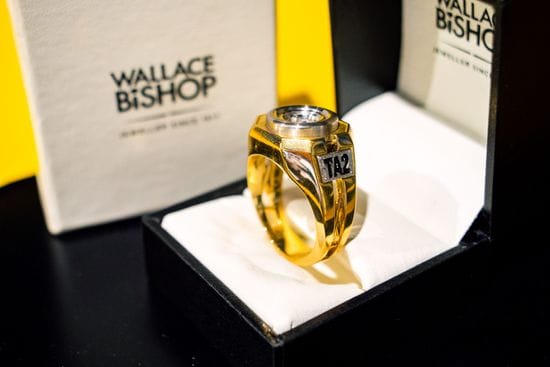 One of the most unique prizes in Australian motorsport has returned, with the TA2 Championship Ring set to be awarded to the victor of the 2022 TA2 Muscle Car Series framed by Hytek after their final round at Winton on 18-20 November.
The TA2 Championship Ring continues an arrangement between the TA2 Muscle Car Series and leading Australian jewellery retailer Wallace Bishop, who have designed the ring for every championship winner since the series' inception.
The ring itself is an Australian-made, hand-crafted 18ct Yellow and 18ct White Gold piece designed by Stuart Bishop. The centrepiece of the ring is a wheel drawn to replicate the actual wheels used by the TA2 series and valued at over $5000.
Bishop himself is a renowned drag racer in a supercharged V8 Camaro Pro Slammer, and the jeweller has previously worked on the trophies for the Supercars Championship amongst their motorsport association.
The display ring pictured will be presented to the series champion at Winton, before the ring is returned for the driver's name and year to be engraved on the ring.
Previous recipients of the TA2 Championship Ring include the inaugural series winner Russell Wright in 2017, Ashley Jarvis in 2018 and Aaron Seton in 2019.
Heading into the final round of the series next weekend, third-generation racer Jett Johnson holds a 91-point lead in the NAPA Auto Parts Mustang over IES Motorsport's Graham Cheney, with Nicholas Bates a further 31-points behind.
With 220 points available for the final round, five drivers are within a mathematical chance for the title, with this year's newly crowned TA2 Southern series champ Zac Loscialpo and 2021 Southern series winner Mark Crutcher also a chance to wear the TA2 Championship ring.
"In the style of the Indianapolis 500 trophy ring, the TA2 Muscle Car series design is a beautiful piece of jewellery, well crafted by Wallace Bishop," said Category Manager Craig Denyer.
"Whoever takes it home will have earnt the prize, it's a testament to how tough and competitive the TA2 Muscle Car Series is, a fitting reward and great memento for years to come and a constant reminder of being the best of the best in 2022."
The championship trophy, ring and a host of other awards will be presented at the TA2 Awards Night held in Benalla on the Sunday night following the completion of the final round at Winton.