TA2 Launch Bumper Season at Lakeside
Posted on 14 March 2017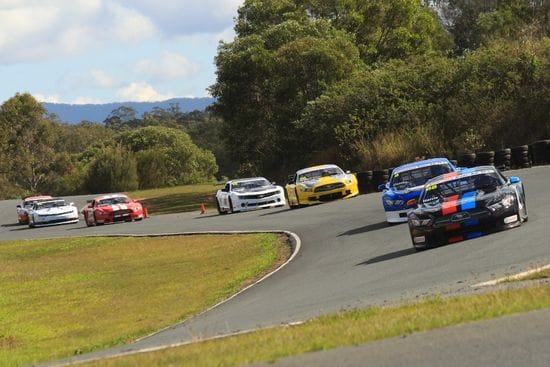 ---
The all-new Trans-Am 2 Australia Series will launch into their first full season of racing at the historic Lakeside Park, with the ultimate American showroom showdown featuring at the Peter Brock Lakeside Tribute Meeting on March 18 and 19.
While 13 of the 17 available cars have been acquired so far, nine will take to the legendary Brisbane circuit with the meeting set to host the maiden competitive outing for the brand new Dodge Challenger TA2 body in Australia in the hands of series founder Peter Robinson.
The striking Plum Crazy Purple colour scheme on the Dodge Challenger was revealed to the public at the Liqui-Moly Bathurst 12 Hour in February, where Trans-Am 2 held a promotional display while Ian McAlister raced his Ford Mustang TA2 to third in the space-frame class of the Riverwall Constructions Combined Sedans support category.
The McAlister Motors team has expanded to two cars for the 2017 season, with Ian's son Hugh McAlister igniting a father-son battle on track in a Generation-5 Chevrolet Camaro for his debut in Trans-Am 2.
Fellow series debutant Anthony Tenkate joins the series in a Ford Mustang TA2, the Sunshine Coast racer is set for double-duties in his 1969 Ford Mustang that he campaigns in the Australian Trans-Am Series. Mustang racer Russell Wright will also campaign in both categories across the weekend.
Trans-Am 2 category manager Craig Harris is looking forward to putting on a show for the Lakeside fans.
"There is going to be some good, hard racing on show this weekend. The racing at the front will be very close as we now have a championship to race for," said Harris.
"With some new cars coming out, Hugh McAlister in his Camaro, Anthony Tenkate in his new Mustang, and a few cars that have had a freshen up over the off-season. It will also be the first outing for the new Dodge, so we're set for an exciting weekend."
"The interest is still very high in the category, with three cars now in New South Wales and one in Victoria.
The Trans-Am 2 series has aligned with the Australian Trans-Am Series for the 2017 season, with both series campaigning at headlines events on the Queensland motorsport calendar. The series has also partnered with the New South Wales Sports Sedans category, with a selection of Queensland-based drivers joining their New South Wales counterparts for a 'race within a race' commencing at Wakefield Park on April 1/2. Further New South Wales and Victorian dates are to be confirmed.
2017 Queensland Trans-Am 2 CalendarRound 1: Lakeside Tribute, Lakeside Park - March 18/19 Round 2: Ipswich Festival of Cars, Queensland Raceway - May 6/7 Round 3: Two Days of Thunder, Queensland Raceway - June 17/18 Round 4: Queensland Racing Drivers Championship, Queensland Raceway - July 8/9 Round 5: Lakeside Classic, Lakeside Park - August 12/13 Round 6: Lakeside 300, Lakeside Park - September 30/October 1