TA2 Muscle Cars impress in Bathurst 12 Hour Saturday supports
Posted on 1 February 2020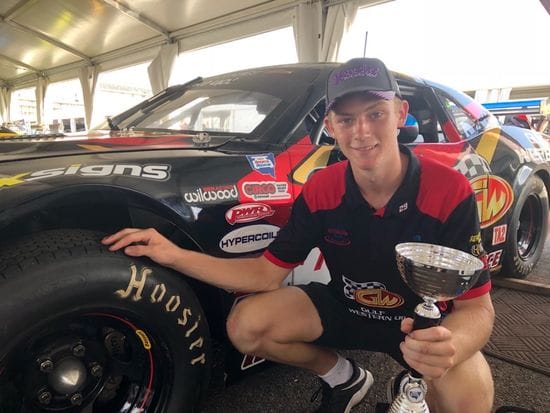 Nine entrants from the TA2 Muscle Car Series once again shone in the Combined Sedans support races at the Bathurst 12 Hour.
17-year old Nathan Herne continued his Friday form in the Gulf Western Oils Dodge Challenger to fight at the front of the field, setting a new TA2 track record at a 2:15.0 and lapping competitively against stronger thoroughbred Sports Sedans and V8 Supercars.
Herne finished second on track in Race 2 this morning before he was sent back five seconds to sixth in the official results after receiving a penalty for overlapping on the safety car restart. This handed the TA2 class victory in the race to debutant Jimmy Vernon (Mustang), who finished the weekend after this performance and sat out the final race due to the extreme heat at the circuit.
Dodge Challenger double Chris Formosa and Peter Robinson tangled at Turn 1 on the restart, with Robinson unable to finish the race.
In the final race, Herne quickly charged back to second on the opening lap behind Paul Boschert's Corvette Sports Sedan. Herne lapped within half a second of the race leader and challenged across the top of the mountain, however Boschert's straight-line superiority prevailed in a car with over 325 horsepower more than the TA2 cars.
Robinson charged through the field from 40th to 18th, while Cam Sendall (Camaro) worked his way forward to finish 13th outright and 3rd in the TA2 class behind Herne and Anthony Tenkate (Mustang).
Mark Crutcher finished fifth in class behind Peter Robinson in 19th outright and ahead of Chris La Rosa and Bill Robinson. Steve Coulter fought back to 27th outright from the back of the field after combatting power steering issues earlier in the day.
The TA2 Muscle Car Series is set for the opening round of the series at Winton Motor Raceway on February 29/March 1, headlining the opening round of the Australian Motor Racing Series.