TA2 Muscle Cars star in Bathurst 12 Hour supports
Posted on 31 January 2020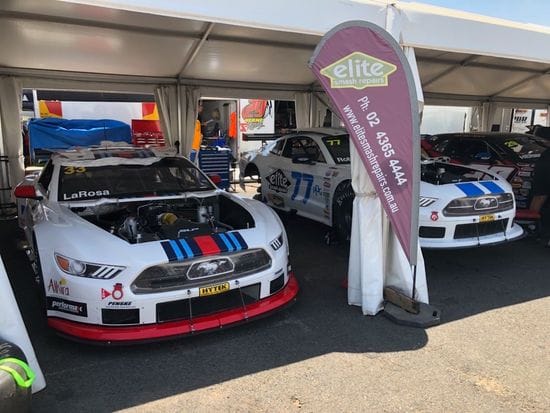 Nine TA2 Muscle Car Series entrants are this weekend taking part in the 52-car Combined Sedans support category at the Bathurst 12 Hour.
The field took to the 6.2km Mount Panorama circuit for Qualifying and Race 1 today, lead by 2019 rookie of the year Nathan Herne in the Gulf Western Oils Dodge Challenger.
The 17-year old from Lismore in Northern New South Wales qualified in sixth with only two flying laps in the first hit out for the entire field marred by multiple red-flag interruptions. He climbed two spots to fourth in the opening race behind a thorough bred Sports Sedan, a former V8 Supercar and a MARC Car, with a top time in the 2:17s in traffic.
Second best of the TA2 cars was series debutant Jimmy Vernon in his first competitive drive of the Mustang owned by notable historic racer Carey McMahon, as the former Toyota 86 Racing Series champion finished seventh outright in the opening race.
Peter Robinson (Dodge), Anthony Tenkate (Mustang) and Chris Formosa (Dodge) finished line-astern in 15th through to 17th, while Cameron Sendall climbed 15 spots from 36th to 21st in his Chev Camaro.
Chris La Rosa (Mustang), Bill Robinson (Mustang) and Mark Crutcher (Dodge) were the other TA2 finishers in the pack, while Kobelco Racing's Steve Coulter failed to finish with a fuel pressure issue.
The TA2 cars will return to action for the final two races of the program on Saturday at 7:20am and 3:25pm local NSW time, with both races streamed live at www.bathurst12hour.com.au.