TA2 Series Leader enjoys DJR Supercars test
Posted on 30 May 2022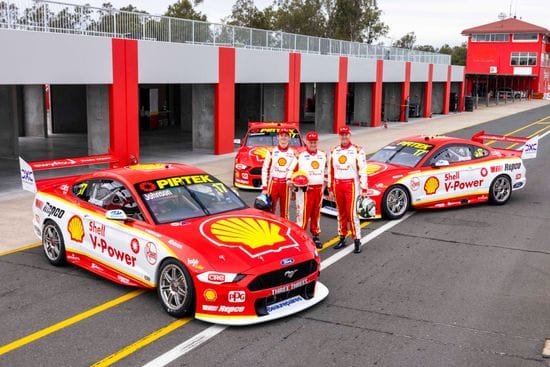 2022 PROMAXX Performance Exhausts TA2 Muscle Car Series framed by Hytek leader Jett Johnson experienced his first ever laps in a Supercar in a historic moment at Queensland Raceway on Monday.
Alongside his Supercars race-winning father Steve and multiple Bathurst and championship-winning grandfather Dick, Jett took part in an evaluation day in a Shell V-Power Racing Ford Mustang for the team which bears the name of his grandfather, Dick Johnson Racing.
The three generations of Johnson took to the Ipswich circuit first thing on Monday morning, with Dick leading Steven and Jett out onto the Dick Johnson Straight at Queensland Raceway, before an evaluation later in the day.
All sporting the iconic #17, the family were extremely proud to share this moment together.
"It's a once in a lifetime opportunity which was presented by Ryan Story, who has all these great ideas," said Dick.
"It was something special, and for me, seeing how Jett has been the last week or two, hanging out to get into the car, it was something special."
Dick Johnson Racing Team Principal Ryan Story credited Jett's efforts in the TA2 Muscle Car Series to earn his opportunity in the Supercar.
"Jett has got the opportunity today to do a driver evaluation day and that's something he has earned, and the way he has earned that has been through all of the efforts that he's been doing with his TA2 car," explained Story.
"I mean he's had many wins and great successes and has come along in leaps and bounds.
"He's a very mature young man and someone we are very proud of as a team, and I know how much his grandfather and grandmother are proud of him, and Steve is still such an instrumental part in everything we do."
For Jett, it was his first Supercars outing ahead of a Shell V-Power Racing Team evaluation day, and the significance of the moment wasn't lost on the 17-year old.
"I think it was made that much more special that it was all three of us together," said Jett.
"It was a little bit hard at first to take in because I was looking around and it didn't quite hit me at first. It was something I'm never forgetting."
"I think the biggest thing for me is just going to be not doing anything silly today, just going out and working with the guys on what to do, what to improve on, and just roll around and do some laps and try to learn the car a little bit," he said.
Johnson also explained the differences to his regular #117 NAPA Auto Parts TA2 Ford Mustang: "It's different in the sense that obviously all of the layout inside the car and right-hand drive. The tyre is different, the motor is different, everything is completely different, but at the same time, it feels familiar as well, driving it. It's a bit of a weird feeling to be honest."
Johnson currently holds a 38-point lead over Tempest Solutions Camaro driver Zach Loscialpo in the 2022 PROMAXX Performance Exhausts TA2 Muscle Car Series framed by Hytek ahead of Round 3 at Winton Motor Raceway on June 10-12.