Tim Shaw Set for TA2 Debut at Winton
Posted on 14 August 2019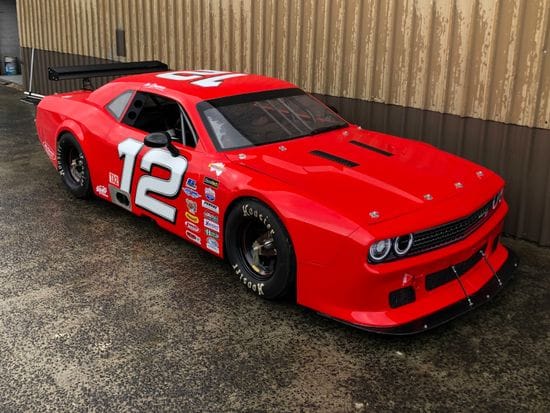 Former Commodore Cup and Future Touring champion Tim Shaw will join the grid for Round 4 of the TA2 Muscle Car Series at Winton Motor Raceway.
Shaw has recently purchased a brand new Chevrolet Camaro to join the TA2 Muscle Car Series in 2020, but will get his first taste of the series this weekend in a Dodge Challenger owned by Keven Stoopman as he evaluates purchasing a second car in the lead up to next season.
From Launceston in Tasmania, Shaw was a champion in Commodore Cup in 1999, and won the Future Touring series in 2000, and also raced in the 1999 FAI Bathurst 1000 in the 1998 race-winning EL Falcon alongside Queenslander Craig Harris. Harris is also heavily involved in TA2 as the owner of the Castrol Harris Racing Ford Mustang that currently leads the series in the hands of Aaron Seton.
Shaw briefly returned to the V8 Utes in 2010, but has not raced competitively since.
The Dodge which Shaw will race this weekend was initially bought by Keven Stoopman earlier in 2019 with several test laps logged at Winton in the interim, however this weekend will mark the competitive debut of the car in the hands of Shaw.
Shaw first sampled the car at Winton on Wednesday, with further practice planned on Thursday in the lead up to Round 4 of the TA2 Muscle Car Series commencing on Friday.
The TA2 Muscle Car Series will hit the track for practice on Friday followed by Qualifying and two ten-lap sprint races on Saturday, a third sprint race on Sunday as well as the top ten shootout and a 25-lap final.
A 30-minute post-produced highlights show will feature on Fox Sports 506 in the weeks following the event.
QUOTES
Tim Shaw, driver #12 Dodge Challenger
"Initially a good friend of mine Greg Crick had been praising the series, saying how good the series looked and that I should think about getting involved.
"The series owner Peter Robinson was a pleasure to speak with, he is really down-to-earth and understands the wants and needs of the racer."
"The fact that this series has only taken off in the last 12 to 18 months is a testament to the series that the runs are now on the board and I think it's going to take off again next year.
"It looks like a cost-effective form of motorsport that is well-regulated, and the future of the series looks promising with the way the management of the series is shaping up.
"The formula that has been put together for this series is really sensible, in that the cars are fast, they look good, they sound good, they're affordable and the results are more talent-based than chequebook-based."
"There are some good people and competitors involved and I think the racing will be great, i'm looking forward to the opportunity to get back involved in motorsport."