Trans-Am 2 Announce 2018 National Series
Posted on 7 November 2017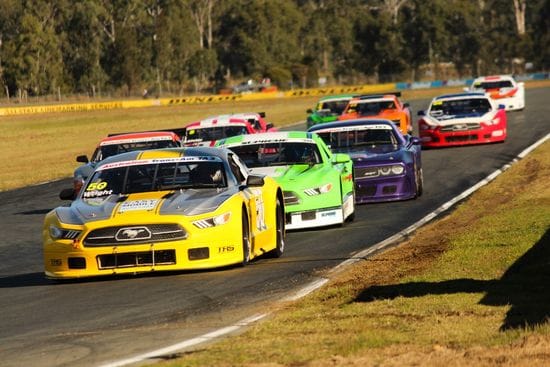 ---
The Trans-Am 2 Australia category has unveiled plans for a national series to commence in 2018, expanding to events in Victoria, New South Wales and Queensland.
Series management have confirmed a seven-event calendar for the 2018 season containing six championship rounds, as well as an invitational event at the Muscle Car Masters at Sydney Motorsport Park.
Trans-Am 2 is the current evolution of America's Trans-Am Series catering for modern V8-powered Trans-Am muscle cars, comprising of a purpose-built space-frame Howe Racing Enterprises chassis and a controlled GM Motorsport engine package developing 525 horsepower.
The Australian Trans-Am 2 Racing Series will commence at Winton Motor Raceway in March, featuring at the opening round of the new Australian Motor Racing Series (AMRS).
The AMRS will later host Trans-Am 2 rounds at Wakefield Park and Sydney Motorsport Park, where competitors will enjoy the added exposure of live streaming and a dedicated 30-minute TV program on Foxtel channel Aurora after each AMRS event.
"It's a well-balanced calendar that focuses on our roots in Queensland, while also forming a basis for our planned national expansion," said Trans-Am 2 Category Manager Craig Harris.
"We're excited to host the opening round of the national series at Winton Motor Raceway, our first event in Victoria."
The series is in talks to stage an international Trans-Am event at the Muscle Car Masters, welcoming drivers from the Trans-Am Series in the US, Asia and Europe to race against the local drivers.
"Trans-Am 2 is a growing formula around the world and it's a great time to kickstart our growth here in Australia," said Harris.
Series management have confirmed 15 cars already sold to competitors in Queensland, New South Wales and Victoria, including to Prodrive Racing Australia co-owner Rusty French, with 21 cars arriving in the country ahead of the 2018 season.
"Trans-Am 2 will be a great series for competitors. They're fast, they're market relevant and the running costs are very low."
"Importantly, the fan reaction has been tremendous. The cars look great on track, they sound great and it taps into the Ford vs GM rivalry that Australian race fans know and love, with the Mopar thrown in for good measure."
Harris, a former Supercars driver himself, believes it's an ideal category for young drivers to learn and develop the skills required to progress to Supercars away from the spotlight.
"They have similar driving characteristics, and it provides a chance for drivers to learn about using the MoTeC system for data analysis."
"They're great fun to drive. There's over 525 horsepower, but with all the creature comforts expected of a modern race car."
Full Trans-Am 2 technical specifications and series information are now available on the category's relaunched website, www.ta2racingaustralia.com.au.
Further invitational events will be announced in due course.
2018 AUSTRALIAN TRANS-AM 2 CALENDAR Round 1: Winton Motor Raceway (AMRS) March 10/11 Round 2: Queensland Raceway (Ipswich Festival of Cars) April 20/22 Round 3: Queensland Raceway (2 Days of Thunder) June 22/24 Round 4: Wakefield Park (AMRS) August 18-19 Round 5: Queensland Raceway (QRDC) September 14/16 Round 6: Sydney Motorsport Park (AMRS) October 27/28 Invitational: Sydney Motorsport Park (Muscle Car Masters) Date TBA