VIDEO: TA2 series leader fighting for championship after Race 2 incident
Posted on 2 November 2019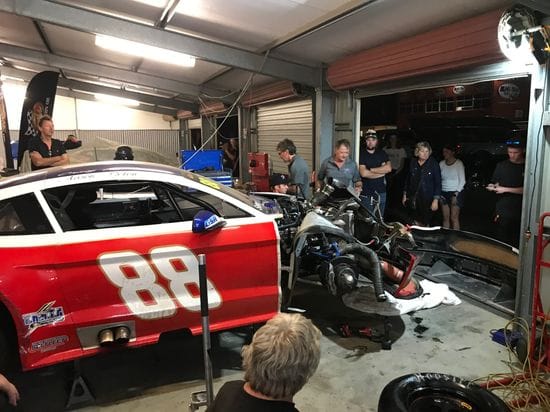 TA2 Muscle Car Series leader Aaron Seton is under pressure to repair his car overnight following an incident involving three cars in Race 2 at Queensland Raceway this evening.
Earlier in the day, the 20-year old Castrol Harris Racing driver lowered the qualifying record around Queensland Raceway to a blistering 1:12.5815 to score his fifth PWR Pole Award from six rounds, and went on to take a convincing green-to-chequered win in Race 1 ahead of 17-year old former Formula Ford racer Nathan Herne in the Gulf Western Oils Dodge Challenger.
The race commenced under twilight conditions at 6:00pm at Queensland Raceway. Seton lead Herne through Turn 1 before he lost the rear of his Mustang and spun around. As the field rushed through the cloud of dust in avoidance he was collected by Andrew Miedecke's Ram Trucks Port Macquarie Dodge Challenger with significant damage to both vehicles. TA2 Masters class racer Russell Wright also collected Seton's car but escaped with only a flat tyre and a broken rim.
The 15-lap race twilight race was cancelled following the incident to retrieve the cars, before both Seton and Miedecke were cleared of any injury by the circuit medical centre. The race has been postponed and will be restarted as the first race on the schedule at 8:30am on Sunday morning.
Seton's closest championship rival George Miedecke finished fourth in Race 1, with Seton (on 1122 points) holding a 46 point lead over the Lubrimaxx/Miedecke Motor Group racer (on 1076 points).
The Castrol Harris Racing team, lead by two-time Australian Touring Car Champion and Aaron's father Glenn Seton has already retrieved the car and begun the process of repairing the chassis and the front end of the vehicle to ensure it returns for track action tomorrow.
QUOTES Aaron Seton, driver #88 Castrol Harris Racing Ford Mustang
"I made a mistake coming out of Turn 1 and unfortunately it has ended our race," said Aaron Seton.
"Fortunately I have the best team in pit lane behind me in Castrol Harris Racing so hopefully we can get back out there tomorrow and fight for the championship."
[embed]https://www.youtube.com/watch?v=d4GR1X2mXuE[/embed]