Wright Wins Tight Ipswich Trans-Am 2 Contest
Posted on 8 May 2017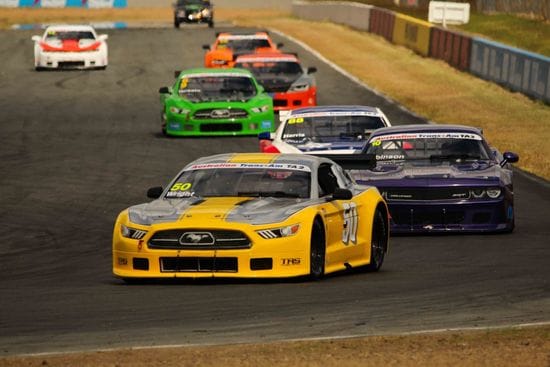 ---
Russell Wright secured a round victory with a win and three podium finishes at the second outing of the Queensland 2017 Trans-Am 2 Racing Series at Queensland Raceway, a round that had four different race winners from as many races.
There was plenty of action throughout the grid that took to the 'Paperclip,' with Group N racer Craig Allan (Chev Camaro) and Greg Willis (Chev Camaro) the latest additions to the grid.
Wright continued his winning form from Lakeside, blitzing the field in his Ford Mustang to claim pole position by six tenths ahead of Peter Robinson and former Australian Trans-Am champion Craig Harris in third.
The opening race of the round saw a thrilling contest between the frontrunners, with Wright leading home a trail of four cars to the chequered. Harris enjoyed a late charge from third to take the lead of the race before settling for second.
Robinson, who finished third, charged off the line to claim the lead before Wright fought back for ascendancy. Anthony Tenkate (Ford Mustang) and Allan were hot on their trail in fourth and fifth respectively, while Cameron Sendall (Chev Camaro) and Willis swapped positions at the rear of the field.
Harris secured his first race win for the year in Race 2, coming home ahead of Wright and Robinson in an enthralling encounter that saw the first four finishers crossing the finish line within one second of each other. Allan and Willis, fourth and fifth respectively, recorded their best results to date, while Tenkate threatened to take the race win before spinning at turn three towards the end of the race.
Tenkate recovered to take maiden Trans-Am 2 race win, overcoming Wright and Allan in a reverse grid Race 3. Tenkate took the lead from polesitter Sendall and set about building a gap at the front of the field. Wright charged through the field from second-to-last to battle with Tenkate and former Group N compatriot Allan.
Robinson notched up a race win in the finale and the maiden win for Dodge in Trans-Am 2 Australia, leading home Tenkate and Wright to the chequered flag.
Wright was pleased with the result after a weekend of intense racing.
"It's been an awesome weekend with four winners from the four races and not a scratch on any car," said Wright.
"The car was realigned in the week at M1 Tyres & Mechanical on the Gold Coast and the car was dialled in beautifully, it was faultless all weekend.
"We made a couple of little errors throughout the weekend but fought back after a race win and a couple of podiums to take the round win."
The Queensland segment of Trans-Am 2 Australia returns to Queensland Raceway for the third round of the season at the 2 Days of Thunder on June 17 and 18.