Posted on 19 April 2023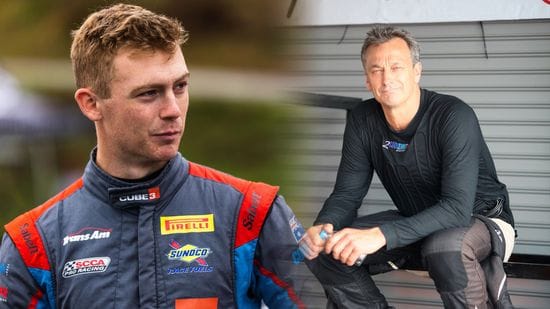 American-based Australian driver Nathan Herne will make a triumphant return to his home country to team up with New Zealander Paul Manuell in an all-international entry at Round 2 of the 2023 TA2 Muscle Car Series framed by Hytek Steel Framing at Hidden Valley Raceway on 29 April - 1 May.
Herne and Manuell join previously announced co-drivers Jordan Cox and Tyler Everingham for the event which has been boosted by major cash prize pool.
The Hi-Tec Oils Super Series have offered a cash prize of $20,000 to the Kings of the North, the highest overall point-scoring driver pairing from all six races.
Herne and Manuell will take the wheel of Peter Robinson's #10 Morgan's Investments Dodge Challenger. Robinson, the founder of the TA2 Muscle Car Series and Australian distributor for TA2 cars, has handed the keys over for this event.
Herne has been making waves in his rookie season in the American Trans-Am Series after a second place finish in only his second race at NOLA Motorsports Park, and lead laps at the last round at Road Atlanta. Herne has been based in Michigan, driving for Stevens Miller Racing through an association with Peter Robinson.
TA2 Australia and Stevens Miller Racing have previously facilitated one-off drivers for former champions Russell Wright and Ashley Jarvis as well as Herne in 2022 through an arrangement with PBR Distributions, brokered by Robinsons long term relationship with Joe Stevens and Chas Howe, manufacturer of the PBR Spec TA2 race cars.
Teaming up with Herne will be Paul Manuell, an experienced racing driver from New Zealand who brings a wealth of knowledge and expertise to the partnership. Manuell is also a TA2 champion driver, having won the TA2 Asia Championship in 2019, and a two-time champion of the NZ V8 Ute Championship.
Manuell also heads up the burgeoning New Zealand TA2 Series, and is working behind the scenes with the Australian TA2 Muscle Car Series to strengthen the Trans-Tasman links between each series for future opportunities.
Racing fans can expect an action-packed weekend with Herne and Manuell taking on the challenges of the series and vying for the top spot on the podium.
Round 2 of the 2023 TA2 Muscle Car Series will take place at Hidden Valley Raceway in the Northern Territory from April 29 to May 1 will be televised live on SBS Speedweek, Monday afternoon of the Labour Day Long Weekend, (May 1) simulcast on Fox Sports.
QUOTES
Stephen Whyte, General Manager - Benalla Auto Club
"To have Nathan Herne flying in from America to drive with Paul Manuell from New Zealand is a big coup for the Hi-Tec Oils Super Series.
"It's very special for NAMSC and the Northern Territory motorsport community to have attracted a genuinely international entry to compete in a race meeting at Hidden Valley."
Nathan Herne, driver #10 Morgan's Investments Dodge Challenger
2x National Trans-Am Series Champion, 2023 American Trans-Am Series driver
"I'm really excited to come back to Australia and race in King of the North TA2 event, the first time ever for TA2 around the world that there's going to be a driver change midway through the race.
"I'll be teaming up with Paul Manuell from New Zealand. I haven't met him before, but I've heard some great things about what he's done in V8 Supertourers and V8 Utes and even the TA2 Series in Asia.
"Peter Robinson has been nice enough to lend Paul and I the keys of his Dodge, so hopefully we bring it home in one piece and give it our best shot.
"It worked out pretty well. I was already back in Australia and it worked out that this opportunity came up so I've decided to stay an extra week to do this race before I head back to America and get back to working on my car full time back in Michigan.
"I'm keen to get back to Darwin. I raced there in S5000 last year and the TA2 cars up there are going to be something different.
"It's also the first time anyone in the Northern Territory will see these cars in the flesh and everywhere the TA2 cars go, whether it's Australia or America, they quickly become the most popular cars there.
"It'll be good to go back and spend the weekend with all the guys from TA2. These are the people who gave me my first shot to take the next step in my racing and they've helped me a lot, even to this day. So it's good to go back there there's a lot of good names coming back out of the woods for it.
"Racing in America is a very different experience. I haven't had as much raw seat time as I would've liked to so far over there, but it has been very busy and I've learned a lot. The driving style between the American Trans-Am cars and the Australian TA2 cars are quite different due to the tyres, so I will have to readapt to getting speed out of the Hoosier tyres.
Paul Manuell, driver #10 Morgan's Investments Dodge Challenger
2019 TA2 Asia Champion, 2x NZ V8 Ute Champion
"I'm pretty thrilled to team up with a top driver like Nathan for the TA2 King of the North Races in Darwin.
"I wouldn't say I've had my day. I'm still competent behind the wheel, still winning races over here, but I don't race much over here anymore really. I'm the New Zealand distributor now for TA2, won the Asian championship in 2019 but I still like to keep my eye in.
"I'm really keen to see some data and I'm sure Nathan could teach me a thing or two. I'm really excited to jump on board and give it my best shot and hopefully we have a good, clean weekend.
"It's quite a unique concept doing the driver change and all that sort of stuff. That's where the race can be won or lost, so it will be pretty important to get my head around and make the best of that. I think Nathan is sort of similar size and height for me, so there shouldn't be too many problems with the belt change and that sort of stuff.
"There's a lot of interest in TA2 in New Zealand. We've sold nine cars now and I'm at Hampton Downs testing three people today. Hampton Downs just launched one of our cars as their ride car which is pretty exciting as it will self-promote. We're here for the long haul. I've been through Supertourers and I know what New Zealand wants. That's why I'm so passionate about these cars. These are what New Zealand can afford and they provide some fantastic racing.
"I did a round at Queensland Raceway last year and it was my first time there while some guys in there had a lot of experience at the track, but going to Hidden Valley it's a track most of the drivers haven't been to, especially in these cars. So I feel a bit better about it when we went to Queensland Raceway, as I sort of just got my head around the circuit by the end of the weekend.
"I'd like to extend my thanks to Peter Robinson for the opportunity, and there's some exciting stuff on the horizon for TA2 in Australia and New Zealand."