Posted on 30 April 2023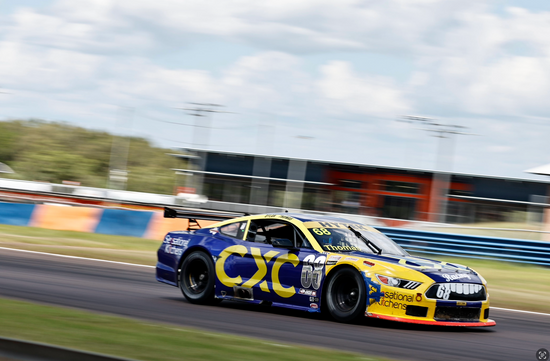 Dylan Thomas and Tim Brook claimed an action packed 20 lap feature race during Round Two of the TA2 Muscle Car Series - framed by HYTEK Steel Framing at Hidden Valley Raceway today. Nathan Herne, fresh from racing TA2 in the USA started the weekend well qualifying 2nd fastest by 7/100ths of a second to PWR pole winner Josh Haynes in the Beaches Sea Doo Mustang. Jordon Cox, co driving with Mark Crutcher was set for pole however lost his fastest time for impeding during the session and was relegated to 4th overall behind the Jackson Rice/Tyler Everingham Pedders Mustang, with the Dylan Thomas/Tim Brook combo 5th outright.
Each of the co-drivers had a 12 lap sprint race based on their individual qualifying times with Herne winning the first sprint from Josh Haynes, Dylan Thomas, Edan Thornburrow and Jackson Rice. Eighteen-year-old Hayden Hume was running strong in the top three until he fired off under brakes at Turn One ending up in the pits with a damaged tyre.
In the second sprint race for co-drivers, Tyler Everingham started on pole from Jordan Cox with Tim Brook and Max Vidau on the second row. Brook in the Dylan Thomas CXC Mustang went on to win from Cox, Everingham, Vidau and Jarrod Hughes in the Dodge Challenger he shared with Hayden Jackson. Series front runner Nicholas Bates was running strong in the Josh Haynes Mustang however had battery failure with the car stopping on track causing a safety car. George Miedecke, in his first TA2 drive since being series runner up in 2019 finished 6th in the McAlister Motors Mustang, while Marcus Zukanovic was well down after pitting to remove debris from the front of the MacKelden Kubota Mustang.
The grid for the final race, which included a pit stop and driver change, was set by the fastest qualifying times overall with Haynes starting alongside Herne, with Rice/Everingham and Crutcher/Cox on the second row.
Haynes and Herne both jumped well on the green, running side by side into Turn 5, before the Beaches Sea Doo Mustang dropped back to 4th out of Turn 1 on the second lap. Herne continued to lead from Dylan Thomas/Jordan Cox until the CXC Mustang with Thomas behind the wheel speered off at Turn 1, putting Gartner up to second with Haynes closing in 3rd. Marcus Zukanovic stopped early in the race with throttle cable failure in MacKelden's Mustang.
Adam Hargraves LocalSearch.com Camaro stopped on track between Turns 4 and 5 with fuel issues, causing a safety car just as the mandatory pit window opened on Lap 8. Herne was first in to hand the CUBE 3 Dodge over to New Zealand driver Paul Manuell, with Thomas/Cox and Miedecke/McAlister also coming in early.
After the re-start, Aaron Tebb's Waltec Racing Mustang ended in the gravel after suspension failure which set up another safety car period.
At the restart, Fisher in the IES Camaro hit the rear of the Jordan Cox/Mark Crutcher Mustang putting both cars into the wall on the Main Straight setting up another safety car period and a two-lap sprint to the flag.
Brook and Manuell came together at the end of the straight on the last lap in the Dodge he is sharing with Herne, however when the pit stop cycle had washed through, Thomas and Brook claimed the win, but due to a glitch with the timing system mid race, all other results are currently provisional pending a late night investigation and will be released when corrected.
Drivers will be back on track tomorrow for the final two sprint races and a 35 lap enduro with mandatory pit stops and driver change with the highest point scoring driver pairing claiming the $20K cash bonus thanks to the Hi-Tec Oil Super Series promoters. Round Two of the TA2 Muscle Car Series - framed by HYTEK Steel Framing will be live streamed from 9.30 am and televised live on SBS and Fox Sports/Kayo from1 pm AEST.
QUOTES
Dylan Thomas, Ford Mustang - CXC Racing
"There has been a fair bit going on all weekend to be fair, even during the sprint races its all been pretty hectic. The most obvious passing opportunity would have to be at the end of the straight, it is very long. Tim had is own little moment at the end so I told him we don't need to be too desperate.We are both very excited to have a crack for tomorrow's Kings of the North race.
Brad Gartner, Ford Mustang - Castec Rural Supplies
"There was a massive mistake from me and we got given a penalty but we have learnt from that but credit to Max for that one. I did two green laps and they were not even full laps, he is driving amazing and I have to thank him. It's already a battle of survival, if Max can keep driving like he is for tomorrow's race and I keep my nose clean I think will have a really good shot tomorrow.