Posted on 5 July 2023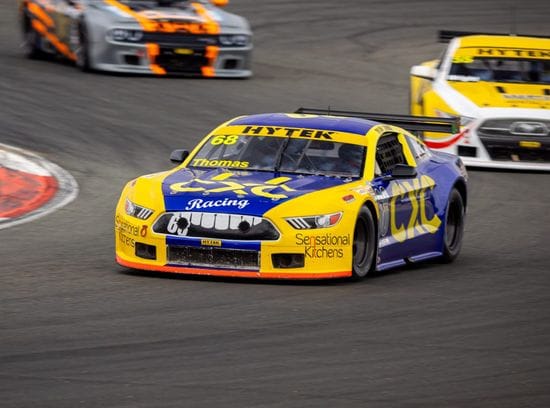 A competitive TA2 field is set to return to Morgan Park Raceway for the first time since 2019 for Round 4 of the 2023 TA2 Muscle Car Series framed by HYTEK Steel Framing, headlining the Hi-Tec Oils Super Series on July 7-9. After Round 3 in Queensland Raceway, CXC Racing's Dylan Thomas remains the championship leader, 23 points ahead of Pedders Suspension and Mudtamer Ford Mustang driver Jackson Rice. Thomas tested at Morgan Park last month, and has focussed his efforts on maximising the Morgan Park round to protect his lead over Haynes and Rice.
Young gun Josh Haynes sits third overall on 581 points, with reigning CIRCO Masters Champion Nicholas Bates back in fourth on 482 points.
Brad Gartner will return for Morgan Park after he experienced a frightening brake issue at 200km/h which resulted in a dramatic crash at Queensland Raceway. The impact of the crash caused significant damage to his #22 Castec Rural Supplies Ford Mustang and absorbed the energy incredibly well, leaving Gartner to walk unscathed from the wreck. The team at PBR Distributions have worked countlessly to get Gartner's Ford Mustang prepared and looking new for Morgan Park.
Hayden Jackson had a strong run at Queensland Raceway taking home his best result in the TA2 Series as well as the Wildwood Big Braker award, despite not qualifying due to a clutch issue.
Gunnedah's Greg Keam will continue his rookie charge in Morgan Park after taking home the Rookie of the Round at Queensland Raceway while series points leader for the Racetech Rookie of the Year Award Hayden Hume will compete in the Toyota 86 round at Townsville this weekend.
Russell Wright will return this weekend in his #55 Crew Commercial Ford Mustang to fight out the Circo Master Class against Robert Leonard, Mark Crutcher, Paul Hadley, Greg Keam, Matthew Mackelden and Nicholas Bates. Graham Cheney is looking for a solid result in his IES Camaro, currently fifth in the pointscore, only two points behinds the Bates Mustang. The reigning Northern Series champ is looking for a strong haul of points as we head into the halfway point of the championship. The weekend's schedule will kick off with 4 Practice sessions on Friday. A 15 minute qualifying session will be held at 10:50am on Saturday followed by a Top 8 Shootout, which will set the grid for Race 1.
Four sprint races will be held across the weekend, three 12 lap races and a 20 lap finale. Race 1 will be held on Saturday at 2:05pm. Race 2 on Sunday morning will be live streamed via the TA2 Racing Australia and Hi-Tec Oils Super Series Facebook Page and Youtube Channel. Races 3 and 4 will be live and free to air on SBS and delayed live on Fox Sports and Kayo.
QUOTES Dylan Thomas, #68 CXC Racing Ford Mustang
"I've done quite a few rounds back in the day with Formula Vee. I should have won a Formula Vee national title there but speared it off the track all on my own, so that was probably one of my lowlights for when you look back at one that got away. "I did do a sneaky little test two weeks ago, the week after Queensland raceway, we ducked up there and took the TA2 up and just did a quick test. We had a decent test plan in place and we threw different items and setups at the car, even during the sessions we tried different ideas and philosophies. "We've sat down as a team, gone through video from the day and formulated a few other things to try when we hit the track for practice on Friday to see if it will help us.
"The reality is because we are leading, we're now in a position that we have a shot at the championship and although as drivers we always take it round by round, we are certainly thinking about the championship now. "In the big scheme of things, Haynes has been probably the quickest amongst us, and he's had a DNF that really hurt him, but he's catching us back round by round, and at the current trajectory he'll be at us come Sydney Motorsport Park, so we need to try and stop the points lost to guys like him and Morgan Park is a really good opportunity to do that hopefully.
"This round will be heavily reliant on qualifying. We've always been pretty good in racing but qualifying has been a bit of a struggle for me so that's what we've been focussing on. "Morgan Park will be challenging to pass, so qualifying is going to be very important. There's a new section with the sweeper which is quite grippy, while the other half of the track is quite slippery so it will be a challenge to setup for both of those, but if we can maximise the areas we need to maximise I think that's all we can try and do and we'll put our best foot forward to do that."
SCHEDULE TA2 Muscle Car Series framed by HytekRound 4 - Morgan Park7-9 July 2023 All times in AEDT FRIDAY
Practice 1: 8:47am (20mins) Practice 2: 10:39am (20 mins) Practice 3: 12:31pm (20 mins) Practice 4: 2:23pm (20 mins) SATURDAY Qualifying: 8:30am (15 mins) Top 8 Shootout: 10:50am Race 1: 2:05pm (12 laps) SUNDAY Race 2: 10:23am (12 laps) Race 3: 1:08pm (12 laps) Race 4: 3:16pm (20 laps)
BROADCAST TIMES Live stream: Sunday 9:30am to 12:45pm (TA2 Racing Australia Facebook, Hi Tec Oils Super Series Facebook & YouTube) Speedweek: Sunday 1pm (SBS Viceland, SBS On Demand, Delayed Fox Sports, Kayo Sports) ENTRY LIST #4 Mark Crutcher (NSW), Ford Mustang - Crutcher Developments #7 Jackson Rice (VIC), Ford Mustang - Pedders Suspension & Brakes #13 Greg Keam (NSW), Ford Mustang - Debeers Refinish #21 Zach Loscialpo (NSW), Chevrolet Camaro - Tempest Solutions #22 Brad Gartner (SA), Ford Mustang - Castec Rural Supplies/MVA Racing #24 Nicholas Bates (NSW), Ford Mustang - Sullivans #37 Josh Haynes (NSW), Ford Mustang - Beaches SEADOO #40 Robert Leonard (QLD), Ford Mustang - Access Linemarking Equipment/Municipal Works Australia #50 Paul Hadley (NSW), Chevrolet Camaro - IES Motorsport #51 Graham Cheney (NSW), Chevrolet Camaro - IES Motorsport #55 Russell Wright (QLD), Ford Mustang - Crew Commercial #68 Dylan Thomas (NSW), Ford Mustang - CXC Racing #81 Hayden Jackson (NSW), Dodge Challenger - MGW/Team RSG #99 Matthew MacKelden, Ford Mustang - Kubota Racing