Posted on 11 October 2023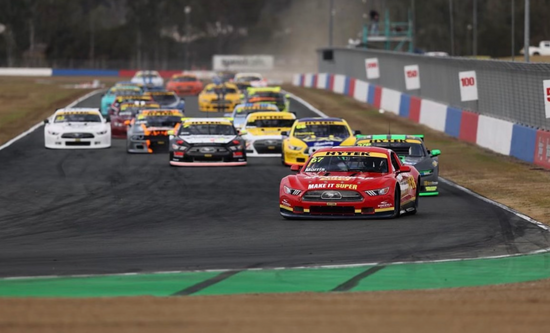 The TA2 Muscle Car Series - framed by HYTEK Steel Framing has reached the pointy end of the season with the penultimate round of the championship kicking off this weekend at Sydney Motorsport Park under lights for the first time this year.

A strong 26 car field will hit the track as the series welcomes a host of high profile entries set to challenge the regular contenders.

Toyota 86 front-runner Jarrod Hughes is set to make his solo TA2 Muscle Car Series debut in an AC Delco-backed Mustang. Hughes previously paired up with Hayden Jackson back in May for Darwin's King of the North enduro where they had a strong run, finishing 9th in the points.

TCR star Jordan Cox will sub for Mark Crutcher in the Crutcher Developments Mustang. The pair won the final two-driver race in Darwin, while Crutcher has handed the keys to Cox for this round while Crutcher is overseas.

National Trans-Am stars Cody Gillis, Elliott Cleary, Tom Hayman, Ben Grice, Joshua Thomas, John Holinger and Kyle Gurton will all line up on the grid in Sydney.

Reigning TA2 King of the West winner Brett Niall will return to the grid, making the journey across from Perth to drive a Dream Racing Australia prepared Camaro.

Queenslander Anthony Tenkate returns to the series for the first time this year after an extensive repair following a crash at Sydney Motorsport Park in 2022.

New South Welshman Michael Coulter and Chris Formosa return to the grid this weekend as well as Queenslander Peter Robinson who joins the field for the first time since Round 1 at Winton.

By way of consistency, Dylan Thomas in the CXC Mustang leads the series by just 13 points from Jackson Rice in the Mud Tamer Mustang, sharing second overall with the Beaches SeaDoo Ford of Josh Haynes, however Camaro driver Graham Cheney, Dodge Challenger racer Hayden Jackson and Mustang mounted Nicholas Bates are all within striking distance.

Thomas has played a smart game so far, driving consistently for points and winning the $20,000 TA2 King of the North with Tim Brook in Darwin earlier this year. Rice and Haynes have both traded race wins and steadily closed the gap on Thomas over the past few rounds, making this weekend's Sydney Motorsport Park round critical in setting up for the final showdown at the re-birthed Calder Park Raceway in December.

Bates and 2017 TA2 Champion Russell Wright are fighting it out for the Circo Masters Award, with Crutcher overseas for this round.

South Australian Brad Gartner will be back for this round, currently sitting 10th in the Mountain Motorsports Mustang, series behind Matt MacKelden, Wright and Crutcher. While, Gunnedah's Greg Keam is eyeing the $2000 Racetech Rookie of the Year prize for first year drivers, only 1 point behind rookie leader Hayden Hume, with just two rounds to go.

The TA2 Muscle Car Series - framed by HYTEK Steel Framing will have four races across the weekend at Sydney Motorsport Park, Friday will see Qualifying and a Top 10 Shootout plus Race 1 under lights, while Saturday will feature three races with a 15 lap final under lights and televised live on free to air channel SBS Viceland in prime time.

Catch Saturday's action live streamed from 1pm AEDT on the TA2 Facebook and Hi-Tec Oils Super Series Facebook pages, and live on air from 6pm AEDT on SBS Viceland, simulcast on Fox Sports and Kayo.
SCHEDULE
TA2 Muscle Car Series framed by Hytek
2023 Round 5 - Sydney Motorsport Park
13-14 October
FRIDAY
Practice 1: 11:25am (20 minutes)
Practice 2: 2:15pm (20 minutes)
Qualifying A: 4:35pm (15 minutes)
Qualifying B: 4:55pm (15 minutes)
Top 10 Shootout: 6:40pm (30 minutes)
Race 1: 9:25pm 10 laps
SATURDAY
Race 2: 1:06pm (12 laps)
Race 3: 6:06pm (10 laps)
Race 4: 8:11pm (15 laps)
BROADCAST TIMES:
Live stream: Saturday 1pm (Hi Tec Oils Super Series Facebook & YouTube)
Speedweek: Saturday 5:40pm (SBS Viceland, SBS On Demand, Fox Sports, Kayo Sports)
ENTRY LIST
#1 Elliot Cleary (VIC), Ford Mustang -The Racing Academy
#2 Kyle Gurton (VIC), Ford Mustang- Nuveau group
#3 Ben Grice (VIC), Ford Mustang - All American Driveline
#4 Jordan Cox (NSW), Ford Mustang- Crutcher Developments
#7 Jackson Rice (VIC), Ford Mustang- Mudtamer
#10 Peter Robinson (QLD), Dodge Challenger- B styled for life
#11 Michael Coulter (NSW), Chevrolet Camaro- Kobelco Motorsport
#13 Greg Keam (NSW), Ford Mustang- Debeers Refinish
#19 Cody Gillis (NSW), Ford Mustang- The Racing Academy
#21 Zach Loscialpo (NSW),Chevrolet Camaro- Tempest Solutions
#22 Brad Gartner (SA), Ford Mustang- Castec Rural Supplies
#23 John Holinger (VIC), Chevrolet Camaro- Holinger Racing
#24 Nicholas Bates (NSW), Ford Mustang- Bates Motorsport
#30 Tom Hayman (NSW), Ford Mustang - Tom Hayman Motorsport
#37 Josh Haynes (NSW), Ford Mustang- Beaches SEADOO
#39 Chris Formosa (NSW), Dodge Challenger- Allgate Motorsport
#50 Paul Hadley (NSW), Chevrolet Camaro- IES Motorsport
#51 Graham Cheney (NSW), Chevrolet Camaro- IES Motorsport
#54 Brett Niall (WA), Chevrolet Camaro- Dream Racing
#55 Russell Wright (QLD), ford mustang- Wright Property Developments
#68 Dylan Thomas (NSW), Ford Mustang- CXC Racing
#69 Anthony Tenkate (QLD), Ford Mustang, Tenkate Plant Hire
#81 Hayden Jackson (NSW), Dodge Challenger- MGW/Team RSG
#99 Matt MacKelden (QLD), Ford Mustang- Kubota Racing
#118 Jarrod Hughes (QLD), Ford Mustang- ACDELCO
#169 Joshua Thomas (QLD), Ford Mustang- TFH Hire Service