Posted on 4 June 2023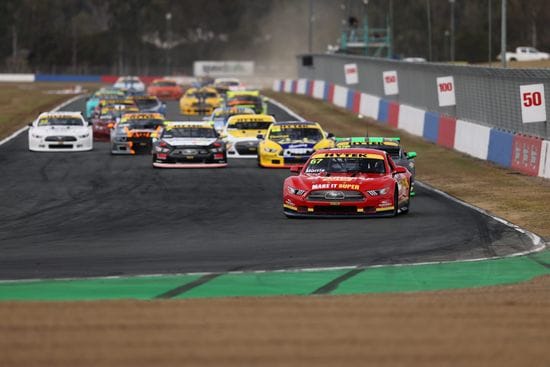 Nash Morris has clean swept Round 3 of the TA2 Muscle Car Series framed by HYTEK Steel Framing in a wild weather-affected Sunday at Queensland Raceway.
After a dominant win in Race 1 on Saturday, Morris lead the rest of the field away off the start in Race 2.
Michael Coulter ran into trouble through Turn 5 on Lap 1 and returned to pit lane with a broken throttle cable.
The safety car was called on Lap 2 when Chris Pappas and Nicholas Bates clashed at Turn 3, while Bates received penalty of five championship points for his part in the incident.
The race resumed on Lap 8, before drama struck again two laps later when Brad Gartner suffered a brake failure at Turn 4 and slid backwards into the infield tyre wall. Gartner was taken to the infield medical centre and cleared of any serious injuries.
The field took the flag under safety car on Lap 10 with Morris taking the win from Haynes and Rice.
Morris scored a lights-to-flag win in Race 3 from Haynes and Thomas.
Michael Rowell spun out on Lap 1 at Turn 4 after having contact with Matt MacKelden, and received a three-grid spot penalty for his part in the incident.
Mark Crutcher spun at Turn 6 on Lap 2 after contact with Chris Pappas.
Jackson Rice sat in third on Lap 6 until he dropped a wheel at Turn 6 and lost two positions, as Russell Wright moved up to fourth.
Nicholas Bates recovered from his incident in Race 2 to move his way up from 19th to 12th, while Hayden Hume retired on Lap 7 with a gearbox issue.
The heavens opened on the formation lap of Race 4, as 12 of the 19 starters piled into pit lane to swap from slicks to wet weather tyres, including pole sitter Nash Morris.
Thomas and Haynes gambled to stay on slicks and lead the field away from Hugh McAlister and rookie Greg Keam.
Morris joined the back of the field on the first lap and proceeded to charge his way back into the lead by the third lap of the race, and produced a 30-second lead by half race distance.
Haynes and Thomas closed in as the track dried up in the closing stages, but the gap was too far gone as Morris hung on to win the race and the round on his series return.
In the championship points, Dylan Thomas extended his lead to 12 points over Rice, as Haynes moved up to third ahead of Bates and Cheney.
Hayden Jackson scored the Wilwood Big Braker Award for his strong overtaking moves all weekend, Michael Rowell scored the Bowden's Best Presented Award, Greg Keam won the RaceTech Rookie of the Round and Russell Wright won the Circo Masters Class on his TA2 Comeback.
The Geoff Leeds Memorial Trophy, donated by Tony Quinn of Queensland Raceway, was awarded to Hugh McAlister for best displaying Leeds' mantra of "Race Hard, Race Fair, Give Racing Room and Respect Your Fellow Competitor'.
Round 4 of the TA2 Muscle Car Series framed by Hytek heads to Morgan Park Raceway in Warwick, QLD on July 8-9.
QUOTES

Nash Morris, #67 Supercheap Auto / Norwell Motorplex Ford Mustang

"It was good to win every race and get the pole position here at QR.

"I think it was the right strategy call to swap tyres and start from the lane, but then it actually stopped raining, so I was second guessing myself, I was pretty lucky to hang on there but it worked out well in the end.

"I love driving in the wet, so I enjoyed it. It was full NASCAR style. I brought it in, thought I was in the Daytona 500, but it was pretty cool. Credit to the team, they've been giving me a fast car all weekend.

"Winton will be good next week, hopefully we can carry on what we've done here, but I have not really raced there before so we'll see how we go.

Hugh McALister, #6 McAlister Motors Ford Mustang

(Geoff Leeds Memorial Trophy Recipient)

"It's an absolute honour to win the Geoff Leeds Memorial Trophy. I think yesterday on the grid was an amazing celebration and ceremony for Geoff and I know a lot of people teared up on the grid and he was in our minds a lot of the weekend.

"It's a real honour to take this trophy home, I'm absolutely thrilled."
2023 TA2 Muscle Car Series framed by Hytek Pointscore (After Round 3)
1. Dylan Thomas - 611
2. Jackson Rice - 594 3. Josh Haynes - 581
3. Nicholas Bates - 482
5. Graham Cheney - 479
6. Hayden Jackson - 472
7. Michael Coulter - 440
8. Hugh McAlister - 432
9. Matthew Mackelden - 417
10. Rob Leonard - 398